Italian River Cruises
When it comes to Italian river cruises, this is a country seemingly designed to host them. In particular, Venice and the wider Veneto region's beautiful canals and rivers pass through diverse landscapes and nature en route, from picturesque lagoon islands with their colourful houses, to wild beach dunes and pine woods with an abundance of birdlife.
These waterways were once the ancient trade routes used by the Romans and the early Mediterranean settlers before them, and Italian river cruises are perfect for gaining a real insight into the many cultures – including Roman, Etruscan, Istrian, Byzantine and, of course, Renaissance – which have influenced the arts, architecture and history of the region over many centuries.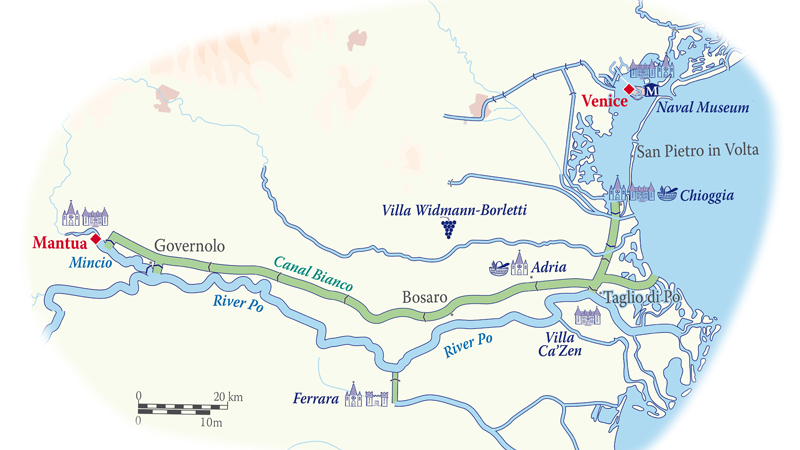 Luxury Hotel Barging in Italy
Diverse landscapes, colourful lagoons and incredible nature
Discover the Veneto region's captivating Roman, Etruscan and Byzantine history
Cruise in Venetian hospitality and style aboard 20-passenger La Bella Vita
Throughout the season the 20 passenger La Bella Vita provides Italian river cruises that encompass the romance and architecture of Venice and the captivating lakeside setting of the Renaissance city of Mantua. Venice is, of course, one of the country's crowning jewels, but Mantua, in the central northern area of the country, has also been (and still is) a hub of art, culture and music for centuries. The route inland takes you along the River Po and the Bianco Canal through the Po Valley.
Delicious seafood, local culinary specialities, fine wines and attentive service complete the experience of this fairy-tale adventure and explain the appeal of our boutique barging experiences. Luxuriating in a friendly and relaxing boat environment, travellers have an opportunity for a unique perspective on some magnificent cities…
Wining & Dining
Venetian dishes vary significantly from the overall cuisine of northern Italy. Being a mountain region, traditional dishes will still include pork, beef and chicken – often served with polenta. But, make your way down to the coast and seafood is the dish of the day!
Onboard, our master chef prepares a series of regional and national dishes that are sure to please every discerning palate. Gourmet meals you can expect onboard include Fegato alla Veneziana, La Polenta, and Lagoon Seafood. Each creation is expertly paired with hand-selected Italian wines such as Chianti Classico Castello d'Albola, Rosé Blanc Brut Sanfeletto, and Rosso di Montepulciano La Bracesca.
Of course, a four-course meal isn't complete without a selection of Italian cheeses! Enjoy a mouth-watering selection including Mozzarella di Bufala, Pecorino, Grana Padano, Taleggio, Provolone, Bagos and Lombardy Quartirolo. As you'll soon see, dining is a true event on our Italian river cruises, with our talented chefs describing their menu before each course, while the host presents each wine, demonstrating its individual flavour profiles – and why it makes the ideal choice for your meal.
Photo Gallery
CONTACT US ABOUT THIS CRUISE
Our Hotel Barge in Italy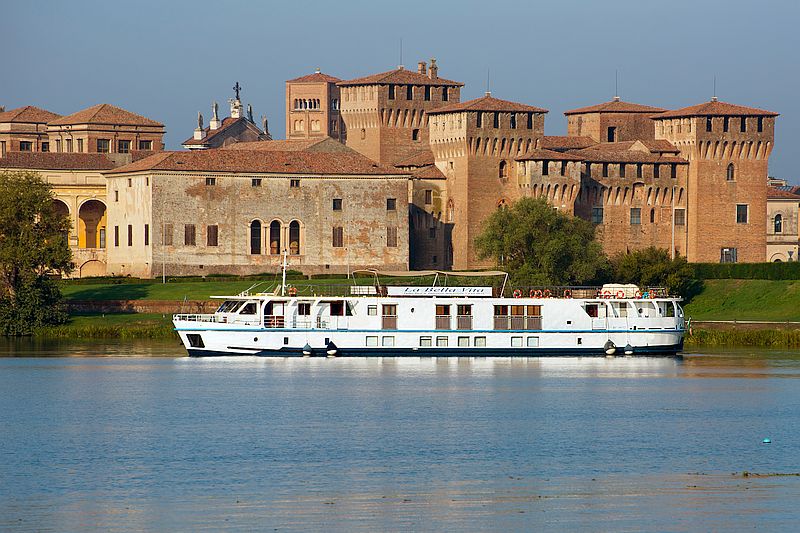 La Bella Vita is a first-class, 20 passenger river cruiser that cruises the Venetian Lagoon and Po Valley in Northern Italy between Venice and Mantua from March to October
Opera Cruises
Opera Cruises are available in July & August, subject to ticket availability. Opera cruise includes premium seat tickets at the magnificent Roman amphitheatre, the Arena di Verona. The following departures are open for cabin bookings:
*Supplement Applies on all Opera Cruises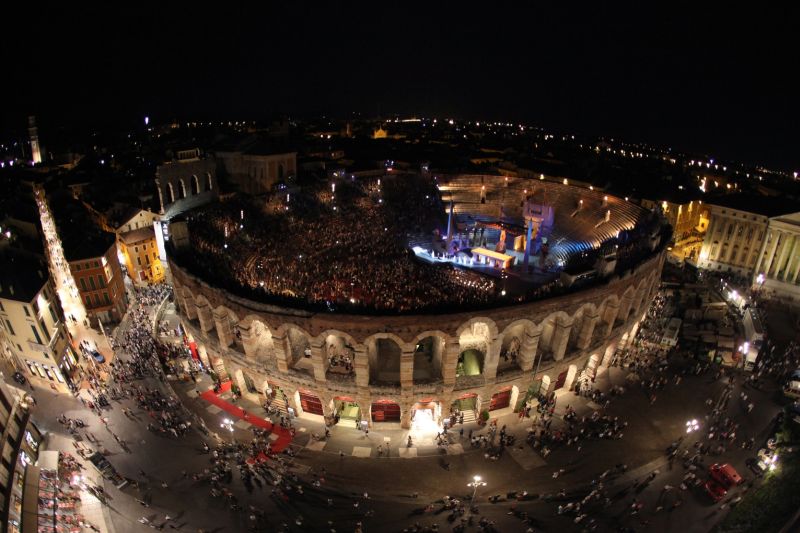 Solo Traveller Cruise
We're delighted to announce our exclusive "Solo Cruises" aboard the stylish 20-passenger La Bella Vita. Cruising between Venice to the Renaissance city of Mantua, this six-night, all-inclusive Italian river cruise enjoys the very best of our classic cruise, with some additional 'extra surprises' along the way, that have been hand-picked exclusively for this departure.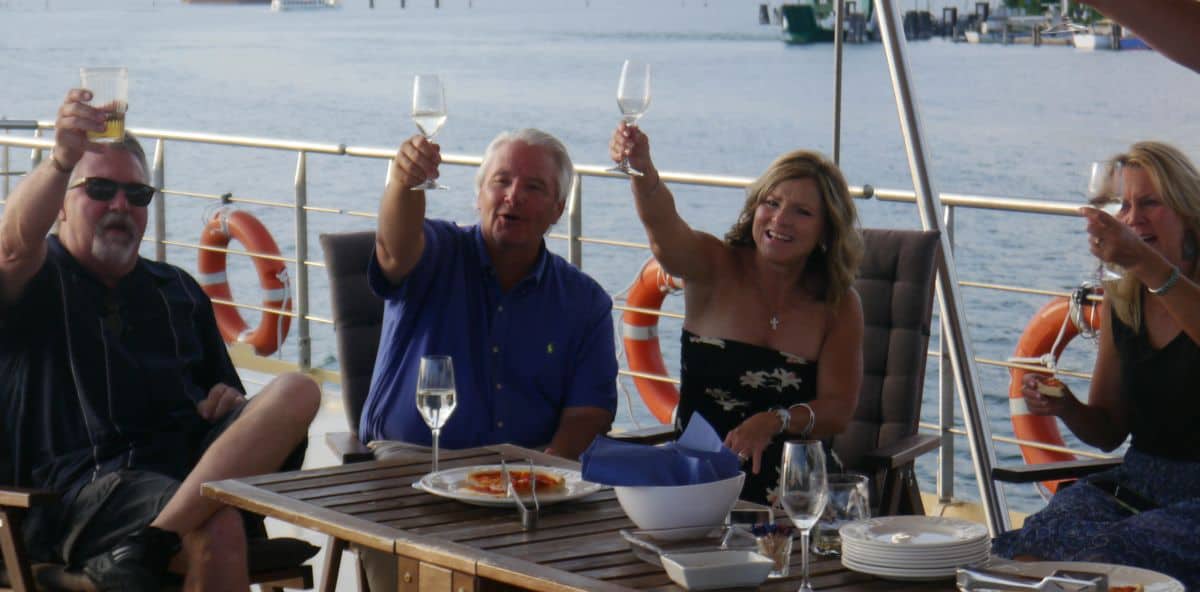 Italian River Cruise Highlights
Our La Bella Vita hotel barge travels between Venice and Mantua. Whether you embark or alight from Venice, you'll be in the perfect location for a spot of pre- or post-cruise exploring. The canals, architecture and cultures of Venice are truly spectacular and there really is nowhere else quite like it. You'll pass Venice's famed Chiesa del Redentore (St Peter's Church) and the impressive Punta della Dogana art museum, before disembarking to enjoy a walking tour of more of the city's famed sites and lesser-known gems.
A popular stop along our La Bella Vita cruise is to Chioggia – a true hidden gem that's often referred to as 'Venice without the tourists'. You'll visit Piazzetta Vigo, famed for its fish market aboard a traditional fishing boat, and the eighteenth-century Church of San Domenico.
The Renaissance city of Ferrara is where you'll alight to admire the exterior of the Estense Castle and its moat, discover the Schifanoia Palace, renowned for its fabulous fifteenth-century frescoes, and visit the magnificent cathedral with its façade of sculpted images described as an illustrated Bible.
Situated on the Canal Bianco that runs alongside the Po River, Mantua is much further up than many of the larger riverboats can go. And, by joining the canal, you'll enjoy raised vistas of the pretty countryside that surrounds, instead of sitting behind the high levées of the river. Here, you'll also get to observe the stunning Baroque and Neo-classical architecture, including the Ducal Palace's many courtyards and gardens.
One popular stop as La Bella Vita travels through the Veneto region is the lovely Villa Ca'Zen, a seventeenth-century villa in the Po Delta Nature Reserve, the country's biggest regional park. The villa's long and interesting history is inextricably linked to one of Britain's greatest poets: Lord Byron. Today, guests can exclusively enjoy a private dinner at this famed stately home.
Themed Italian River Cruises
We can arrange a wide selection of themed charters, which can appeal to all types of groups, large or small. They can centre around interests from local culture and gastronomy to more active pursuits, such as on our Golf Cruises.  Popular themed itineraries include Family Cruises, which are suitable for multi-generational travellers including young children and take into consideration the ages and interests of all those in the group. They offer a wide range of activities and equipment, such as high chairs, car seats and bicycles.
Oenophiles (wine lovers) are sure to enjoy our impressive Wine Appreciation Cruises, which offer an array of wine tours and tastings at local and renowned wineries, such as the superb Wine Estate of Orto and the seventeenth-century Villa Widmann Borletti.
Supplements may apply.
For more information on Italy Theme Cruises, including our spectacular La Bella Vita Opera Cruises in the summer months or our exclusive Solo Cruises in the autumn, please speak to a member of our Cruise Team.
Why Book an Italian River Cruise?
The captivating waterways of the Veneto and the Po Valley offer a rare cruising experience, one where centuries of culture, history and nature intertwine. Reaching La Bella Vita couldn't be easier, with two pick-up points available for standard cruises. Guests can take the train to the main Santa Lucia railway station, ideal for those staying on Venice Island, or in Mestre, for those flying into Venice Marco Polo airport.
FROM THE LOCK-KEEPER BLOG