Loire Valley Cruises
The spectacular Loire Valley and its main tributary, the River Cher, have carried cargo and passengers for over 2000 years, since pre-Roman times as it winds through sandbanks to the Atlantic Ocean. The Valley of the Kings is a timeless region of spectacular beauty and grace and we are delighted to offer the only hotel barge cruising through its heart.
The Loire Valley is as rich in legend as it is in beauty; here the aristocracy of France have built their castles and palaces over the centuries and you will realise that, fortunately, little has changed. Talk to a cheesemaker and find out why his is the most famous goat's cheese in France. Wind your way through the narrow streets of a centuries-old village, perhaps discovering hidden shops with hand-painted pottery, or stumble across an open market on your own.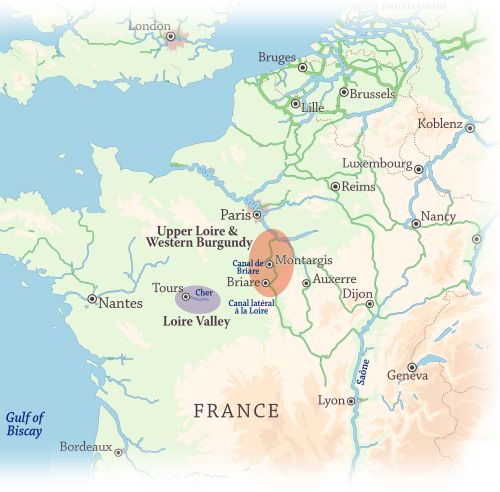 The ultra deluxe Renaissance cruises in western Burgundy and the upper River Loire which gives a taste of the Loire region where it borders Burgundy to the west.