Honeymoon Cruises
We offer a unique honeymoon cruise programme at the very heart of the breathtaking Loire Valley
Hotel Barge Nymphea will be configured for an exclusive two person charter offering the ultimate in floating romance. Couples use the best double suite and will enjoy fine dining on board nightly by candlelight after champagne cocktails, with one evening meal ashore seated at the best table in a Michelin starred restaurant.
This Loire Valley cruise with its fairy-tale chateaux and tranquil vineyards and wonderful waterways is a destination that will warm the heart and inspire romance. The hotel barge Nymphea will moor in picturesque settings by centuries old watermills or under shady weeping willows and a short stroll will lead to a colourful street market or friendly village café.
There is something for every discerning newly-wed couple on our honeymoon cruises and no supplement is charged for this unique experience.
*Honeymoon cruises are charter only.
Hotel Barges for Honeymoon Cruises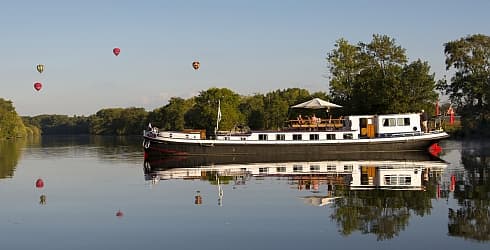 Nymphea is a first-class, 6 passenger hotel barge that offers Honeymoon Cruises in the Loire Valley between Moulin de Nitray and Montrichard from June to September
FROM THE LOCK-KEEPER BLOG