Burgundy Barge Cruises
France is where the idea of luxury barge cruises first started, due in no small part to the myriad of waterways which cross not only its scenic countryside, but also many of its historic towns and cities. And while a Burgundy barge cruise may not be one of the best known holiday options for visitors to France, those who do discover hotel barging in Burgundy are sure not to be disappointed.
In fact, taking a Burgundy barge cruise down one of the region's canals is a truly wonderful experience. The area boasts some of the world's finest wines with around 60,000 acres of sunlit vines and arguably the prettiest canals in France. The waterways wind through the heart of the territory's renowned vineyards, medieval towns, elegant châteaux, magnificent cathedrals, picturesque villages and wonderful local markets. En route, barging in Burgundy guarantees our clients a wealth of sightseeing opportunities.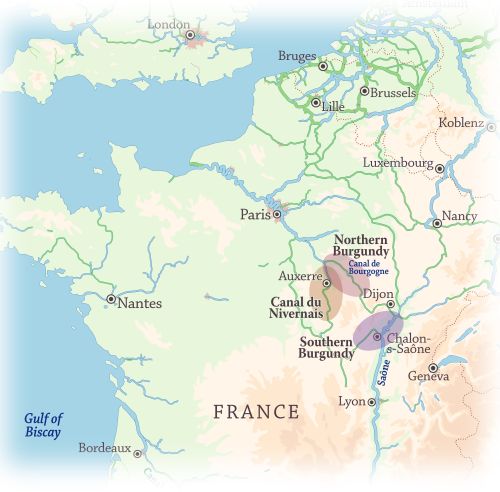 This is a region with a vast variety of cheeses, in all shapes, sizes and colours, strong in character or mild and fresh and all can be enjoyed with full-bodied red Burgundies, or perhaps with lighter white Chablis wines. The Burgundian gastronomic tradition is rich and diverse and a sedate Burgundy barge cruise along one of its delightful waterways will allow you to indulge along the way in good food and wine: two of life's essential pleasures.
Photo Gallery
CONTACT US ABOUT THIS CRUISE
Our Hotel Barges in Burgundy
FROM THE LOCK-KEEPER BLOG