Longer Waterway Cruises
If you are looking for a cruising experience that is different from the 'classic canal cruise', we offer a number of 'voyages of exploration' on the rivers and other water courses of Holland, Belgium, France, Germany and Luxembourg. These cruises usually cover longer distances, so you will do more cruising each day.
There will be fewer opportunities to bike or walk but there is more time to appreciate the character of a variety of waterways, particularly at times of the year when the passing landscapes are at their best. These include Hollands Diep and the River Ljessel, the River Scheldt in Belgium and the Rivers Lys and Oise in Northern France.
And, of course, on all these cruises there will be a variety of culturally interesting excursions to cities and other landmarks as your barge passes through each region.
You can take a 6 night cruise from Holland to the charming Belgian city of Ghent, or embark on a longer 11 night voyage by way of Bruges, Ghent and through the hills of Picardy, to Paris.
Alternatively, cruise through Paris, experiencing a fabulous night-time passage past the floodlit Eiffel Tower and Notre Dame and down the Rivers Seine and Yonne to the city of Auxerre in Burgundy. Or perhaps cruise along the River Moselle which forms a natural border between Luxemburg and Germany and where you will be enchanted by the backdrop of vineyards.
The stylish 12 passenger Panache cruises from Holland to Belgium and then on through Picardy to Paris for a few weeks in late Spring following her Tulip cruises in Holland and before she spends the Summer in Alsace-Lorraine.
The 8 passenger La Nouvelle Etoile, like the other two barges, winds its way through Holland, Belgium and Picardy in Northern France to Paris in late Spring, and, in addition, cruises the River Moselle in Germany in the Autumn.
Longer Waterway Cruises
Panache is a deluxe, 12 passenger hotel barge that cruises in Holland, Champagne and Alsace & Lorraine (Owned & Operated by European Waterways)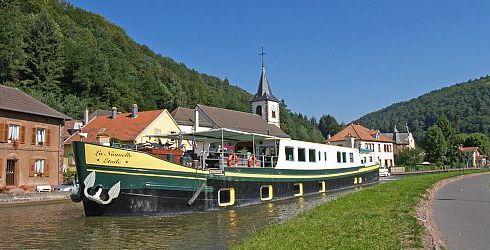 La Nouvelle Etoile is an ultra-deluxe, 8 passenger hotel barge that cruises in Holland, Belgium, France, Germany and Luxembourg
FROM THE LOCK-KEEPER BLOG