Golf Cruise – Italy
ITINERARY*
Sunday, Day 1 Mantua
Guests are met at the Best Western Hotel Bologna in Mestre and transferred by private chauffeured minibus to La Bella Vita for a Prosecco welcome, giving you the opportunity to meet your Captain and crew. Then we stroll through the historic city centre and visit the magnificent 14thC Ducal Palace, before perhaps a short cruise around the lakes surrounding the city. Dinner on board.
Monday, Day 2 Mantua to Zelo
This morning you will be treated with a wonderful guided tour of Mantua, a picturesque medieval town famous as the home of both the painter Andrea Mantegna and the poet Virgil, but also as a centre of power of the Gonzaga family. After lunch we accompany you to Verona Golf Club for your first game. Dinner on board and overnight in Zelo.
(18 holes, Par 72, 6054 metres)
Tuesday, Day 3 Zelo to Bosaro
This morning we take a gentle cruise from Zelo to Bosaro. Perhaps enjoy a refreshing breakfast of coffee and fresh pastries on deck as we cruise past the beautiful Italian countryside, as we glide seamlessly through it. After lunch and we have arranged a guided visit to the Renaissance city of Ferrara, a UNESCO World Heritage Site for its beauty and cultural importance, and its imposing 14th century Estense Castle – originally belonging to the noble Este family – with its moat, drawbridges and marble balconies. We will also have time to visit the Schifanoia Palace with its fabulous 15th century frescoes as well as the Cathedral façade with its sculpted images presented as an illustrated Bible. Plenty of time for shopping and a stroll around this delightful town. Late afternoon, we return to the barge for the dinner aboard and… there's a surprise for you!!
Wednesday, Day Bosaro to Taglio di Po
After an early breakfast we transfer to Frassanelle Golf Club to play a round of golf and have lunch at the excellent club house restaurant. We will transfer after lunch to Adria and for a visit of the very ancient Greek and Etruscan important archaeological museum. After returning to the barge we cruise to Taglio di Po, relaxing perhaps on the huge sundeck and taking in the scenery. Dinner on board.
(18 Hole, Par 72, 5906 metres)
Thursday, Day 5 Taglio di Po to Chioggia to Venice
This morning we enjoy a wonderful cruise from Taglio di Po to Albarella Island, in the Po delta, with lunch on board. In the afternoon you will have the chance to play at the Golf Club Albarella Return to the barge at Chiggia, a city famous for Goldoni's plays, and cruise across the Venetian Lagoon to Alberoni. Dinner on board.
(18 Holes, Par 72, 6130 metres)
Friday, Day 6 Venice
After breakfast, we enjoy our final round at Circolo Golf Venezia. Return to the barge for lunch on board followed by a delightful cruise into Venice, the only city built on water. Guided tour and visit to the Palazzo Ducale – which reveals the history of the Republic "La Serenissima" – the Doge's Palace and St mark's Square. Time for shopping, exploring or simply sipping on a coffee while watching the world go by. Return to the barge for the Captain's Farewell Dinner.
(18 Holes, Par 72, 6039 metres)
Saturday, Day 7 Venice
After breakfast, guests are transferred to the Best Western Hotel Bologna in Mestre.
This is a sample itinerary and is subject to change.
On alternate weeks the cruise will be in the reverse direction.
 Some cruises may be on the River Po, depending on the water level.
CONTACT US ABOUT THIS CRUISE
Cruise Route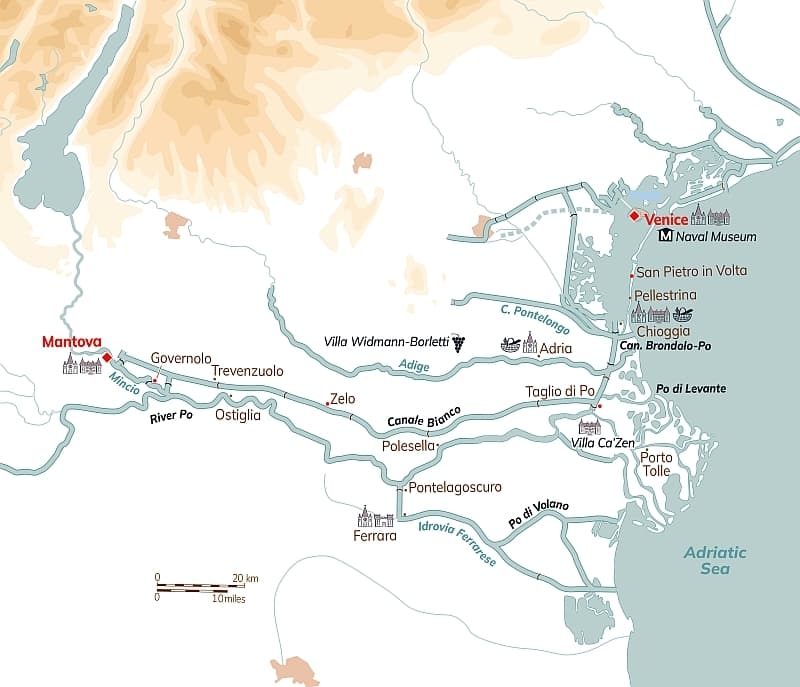 Photo Gallery
La Bella Vita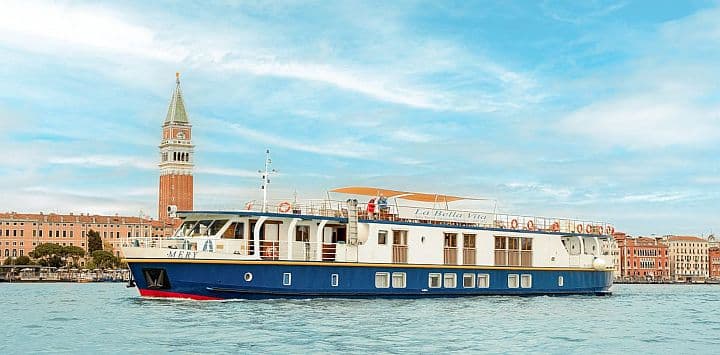 La Bella Vita is a first class, 20 passenger river cruiser that cruises the Venetian Lagoon and waterways of the Po Valley in Italy
Related Articles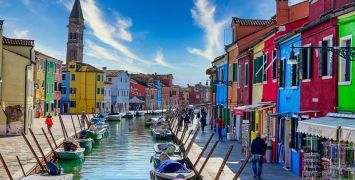 With over 100 islands in the Venetian lagoon, it's tricky to pick the best ones to visit, so we've compiled a shortlist of our top 10. Read More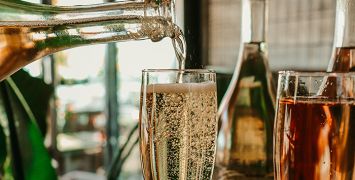 Prosecco, the drink of choice for celebrations all over the world. But do you know your prosecco from your spumante? Read More