Artisan Cruises
For those people who are interested in the crafting of handmade products, particularly food, European Waterways offer wonderful artisan cruises aboard hotel barge Shannon Princess on the River Shannon in Ireland.  During this cruise guests will also see Ireland at its finest, with rolling green landscapes, castles and an abundance of wildlife along the way, as the hotel barge explores the very soul of Ireland.
Highlights of the cruise include a guided tour by the master cheese maker, Ralph Haslam, owner of Mossfield Organic Cheeses, and visits to Kelly's Moonshine Organic Dairy and the award-winning Meadowsweet Apiaries & Farm Shop which has won many awards for its delicious honey.
There is also a tour of Portumna Castle's Kitchen Garden which is full of beautiful herbs and berries used by Chef Olivia on  Shannon Princess and a trip to the world famous Clarinbridge Oyster Beds on the shores of Galway Bay. Visits to the highly-skilled "Wilde Irish Chocolate Makers" and McGeoughs Craft  Butchers & Smokehouse – an award winning Charcuterie producing among other delights, smoked Connemara lamb, complete the fascinating itinerary.
This cruise offers you a true insight into the long-established world of specialist artisans where all the hand-made products have a story to tell.  The Irish people in this region are convinced that fine locally produced products are fundamental to their quality of life, and we think you will be too.
*Artisan cruises are charter only.
Hotel Barge for Artisan Cruises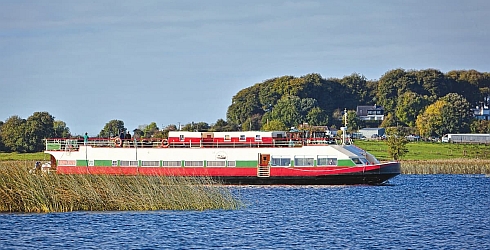 Shannon Princess is a deluxe, 10 passenger hotel barge that offers Artisan Cruises in Ireland between Glasson and Killaloe from April to September
FROM THE LOCK-KEEPER BLOG