Cycling Cruises give you the best of both worlds. You can relax and unwind on your luxury hotel barge after a day of cycling on towpaths or biking to picture-postcard villages. You'll see some incredible sights with trips in Burgundy and the Loire Valley in France, and you can arrange to visit many other gorgeous destinations to suit your needs. If you are looking for cycling holidays with a difference, you have come to the right place. Book your boat and bike tour of Europe today.
Our Cycling Cruise Destinations
Picturesque villages and centuries-old history, 8-passenger L'Art de Vivre offers a journey back in time along the Canal du Nivernais
Navigating the beautiful sandy reaches of the River Cher in the Loire Valley, 6-passenger Nymphea cruises where many vessels can't
At European Waterways, we aim to provide impeccable service throughout your stay. This is why all of our barges are designed as floating hotels, offering a deluxe stay as you explore the cycle paths of your chosen destination. From April to October, you can see the best of Europe and select the perfect destination, knowing that whichever hotel barge you choose, the service will be of the highest quality.
The hotel barge L'Art de Vivre has a rich history and is the oldest barge in our fleet. She used to be a supply vessel to Allied troops during World War One but now cruises along one of the longest-established canals in France. With traditional decorations featuring original wood and brass, you'll enjoy a classy barge boasting modern facilities and a gorgeous sun deck, ideal for soaking up the sun.
With classic yacht décor, the Nymphea has a shallow draft, making it easy for her to traverse the shallow waters of the River Cher. Warm interiors make you feel welcome, with air-conditioning and en-suite bathrooms to enjoy. This beautiful hotel barge will even cruise through the arches of Château de Chenonceau, which many recognise as the most photographed in the Loire Valley.
Hotel Barges for Biking Cruises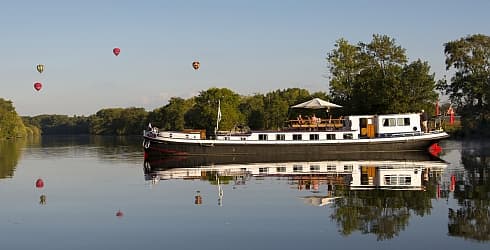 Nymphea is a first-class, 6 passenger hotel barge that offers Biking Cruises in the Loire Valley between Moulin de Nitray and Montrichard from June to September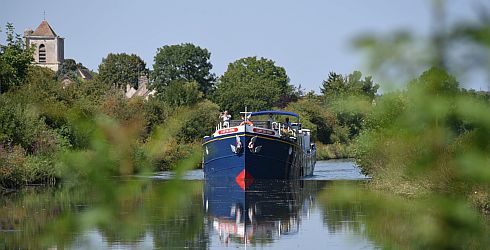 L'Art de Vivre is a first-class, 8 passenger hotel barge that offers Biking Cruises in Burgundy between Auxerre and Chevroches from April to October
Bike and Barge Cruise Highlights
Looking for the perfect holiday to combine sightseeing and cycling? Biking Cruises do just that. You'll experience some of France's scenic waterways, and enjoy private daily excursions to lesser-known regional gems. We offer tours in France, but you can arrange private tours of other areas if you so desire.
Burgundy and the Loire Valley make for some of the most picturesque destinations in France, with stunning scenery to explore and a range of cycle paths to explore. Ride alongside the gorgeous canals and rivers and see the French countryside in a whole new way.
The L'Art de Vivre biking cruise will take you through the narrow streets of Irancy, which is the last wine village to have been awarded its appellation-controlée. From here you'll ride through vineyards and go cross-country on the 'Grande Randonnée track 13' to enjoy a stunning buffet lunch and barbecue on the grounds of a 17th Century watermill. Later on your cruise you'll reach the Bois d'Arcy and climb one of the most picturesque hills in Burgundy: Vezelay. The sights you'll see are just one of the reasons people choose to enjoy a gentle pedal on a barge cruise in Burgundy.
Your bike and barge cruise on Nymphea will take you along the Loire cycle path along the River Cher to visit the Chateau de Valencay and its Renaissance gardens. You can sample wine as you cycle along the towpath and country lanes to the Domaine de la Grange. Rejoining the River Loire, you'll get the chance to stop at an island for a swim and a picnic for a truly unforgettable holiday.
Booking a barge cycling tour is easy. There is a small supplement to be paid on our bike and barge tours, which we then use to hire a specialist cycling tour guide. They are experts on cycling and the areas you'll visit, providing valuable local knowledge and tips. We offer a range of active barging holidays, and cyclists will love the tour and action of these holidays.
France is well-known for its excellent wines, so your cruise will take you to some of the most iconic vineyards and wineries in the country. You may visit Château de Chaumont with its renowned international Garden Festival or pay a trip to Royal Chateau d'Amboise and the Clos Luce, which was Leonardo da Vinci's home.
Interested in more adventure on your journey? We offer a 'Biking Plus' option. You'll get pre-packed backpacks and pre-planned cycle routes. This takes your cycling cruise to the next level so read more about 'Biking Plus'.
Why Book a Bike and Barge Holiday?
A holiday doesn't have to be spent relaxing the entire time. You want to explore and see the sights, which is where barge cruises come in. You'll uncover the rich history of the region and sample some of the best food and drink in the world after cycling along scenic towpaths and lanes. It will make for a fun and unforgettable experience so book today.
FROM THE LOCK-KEEPER BLOG