Art Cruises
If you have a passion for art and painting our hotel barge Athos, offers a wonderful art cruises from the fishing port of Marseillan to Argeliers. Whether you are an accomplished painter or a beginner, the beautiful scenery in Southern France is the perfect setting.
Painting opportunities are plentiful and include the sparkling water of the Etang, the four bridges of Beziers and the panoramic view over the Collegiale.
Further highlights of our cruise include a visit to the Roman town of Narbonne with its morning market, the historical town of Pezenas filled with artisan shops, visit to the olive press and also the medieval city of Carcassonne.
*Art cruises are charter only.
Hotel Barge for Art Cruises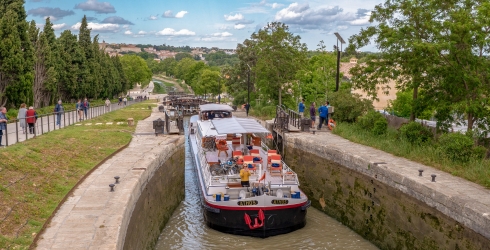 Athos is a first-class, 10 passenger hotel barge that offers Art Cruises on the Canal du Midi between Argeliers and Marseillan from April to October
FROM THE LOCK-KEEPER BLOG