Cruises in Gascony
The "Canal des Deux Mers", comprising of the Canal de Garonne and the Canal du Midi, links the Atlantic to the Mediterranean, passing through the region of L'Occitanie – a veritable palette of colours and scents created by orchards and vineyards and fields of sunflowers.
On our cruise through Gascony along the Canal de Garonne, we visit medieval fortified 'bastides' such as Valence d'Agen, learn about and taste some of the region's wonderful local produce and pass picturesque villages and quaint farms. This stretch of canal is quieter and less well known than the Canal du Midi further east but has more of a feeling of the real France, off the tourist track.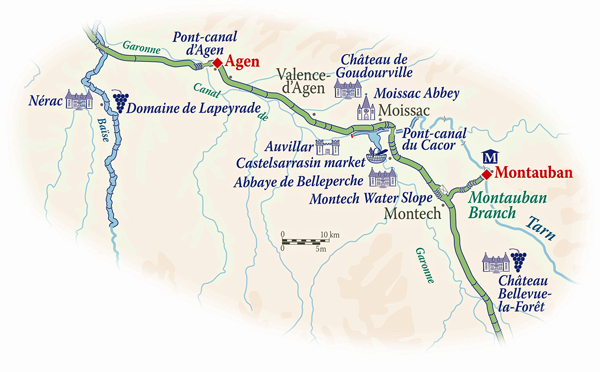 The 8 passenger Rosa is the barge we chose to cruise this area. Her itinerary includes tastings of foie gras, local fine wines and Armagnac, together with guided visits to the artisans who produce them.
The cruise route also requires your captain to negotiate the amazing inclined water plane at Montauban and the 1000 foot aqueduct over the River Tarn as well as a short cruise along the river itself where in summer, the barge may moor under a weeping willow for guests to swim in its crystal clear waters.