Luxury River Cruises in England
When it comes to river cruises in the UK, England is sometimes overlooked as a potential source of fabulous opportunities. The River Thames has a lot to offer, as guests who book a room on our luxury hotel barge will discover. When you experience English river cruises, the quaint, scenic countryside opens up before you.
If you are looking for luxury river cruises, England's rustic beauty is revealed in its glory to those who opt for this destination. We offer slow, meandering journeys past Royal Palaces, riverside towns and villages. Guests will experience a real mixture of olde worlde England and the natural beauty of Surrey, Berkshire and Oxfordshire. From Henry VIII's Hampton Court, these cruises pass Windsor Castle to Henley, with frequent stops allowing plenty of time to wander and explore whilst we follow this old Viking trading route deep into the rural countryside.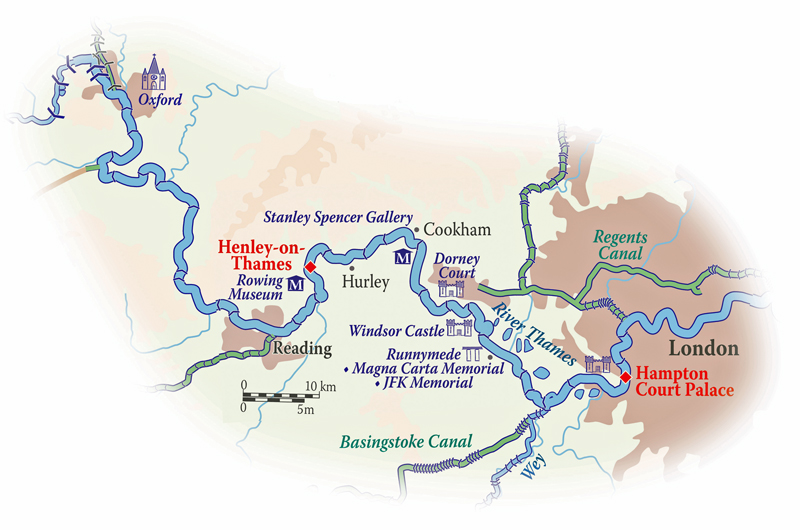 Gentle exploration is the highlight of all river cruises in England, and our holiday maximises this potential, with good cycling and walking opportunities as our elegant and spacious luxury hotel barge finds her way along the Royal River Thames visiting traditional boat builders, art galleries and the "real" Downton Abbey.
For holidaymakers wanting less crowded but still charmingly scenic UK river cruise, England may well be the perfect destination!
The elegant and spacious air-conditioned 8 passenger Magna Carta is the perfect hotel barge for the royal river. We are proud to claim that English river cruises with us will offer you an unrivalled view of England from the deck of this luxurious vessel.