Barge Holidays in Scotland
For a magical barge holiday, Scotland is hard to surpass. We cruise sedately through the Great Glen between Inverness and Fort William, navigating beautiful lochs and the engineering masterpiece that is the Caledonian Canal. Ancient castles perched on the water's edge, heather-clad hillsides and arguably the finest inland cruising in the world offer our clients unforgettable experiences on a handpicked barge holiday in Scotland. Scotland's legends of the past, the taste of single malt and the mythical inhabitant of Loch Ness all contribute to a magical charm only experienced in the dramatic Highlands.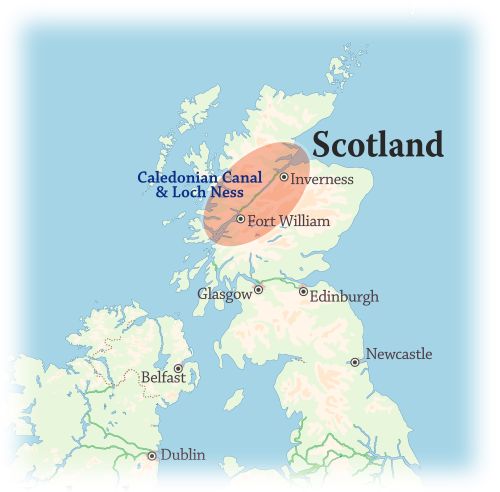 Scottish Highlander has the atmosphere of a Scottish country house with subtle use of tartan furnishings and landscape paintings. At 117 feet long, she is spacious and has every comfort for a barge holiday in Scotland in all weathers. Let the marvels of this stunning land unravel before your eyes from the hull of this stunning vessel.
Although purpose-built at the turn of the century as a hotel barge, the Spirit of Scotland enjoys modern stylings that evoke the traditional Steamers that plied the lochs of Scotland in the 19th and early 20th centuries as post and passenger vessels. With impressive living spaces, a dedicated dining area and picture windows, she is a great way to enjoy the region's spectacular views from both inside and out.
Cuisine is traditional Scottish fare – salmon, game and seafood, prepared by your own Master Chef, and the hotel barges' experienced crew do their utmost to anticipate your every need.
A barge holiday in Scotland aboard Scottish Highlander or the Spirit of Scotland along the Great Glen through some of Scotland's finest scenery will be unforgettable. According to guests who have experienced a barge cruise, Scotland is one of the top regions to see from the water.
The 8 passenger Scottish Highlander, and the 12-passenger Spirit of Scotland have been designed specifically for our Highland cruises with plenty of interior viewing space to protect you from the elements. Scottish Highlander also enjoys a cosy observation area in the wheelhouse.
Aboard a luxury barge cruise, Scotland's lochs and the Caledonian Canal are accessible whatever the weather.