Falling In Love With Slow Travel in France – Our Cruise on the Canal du Midi aboard Anjodi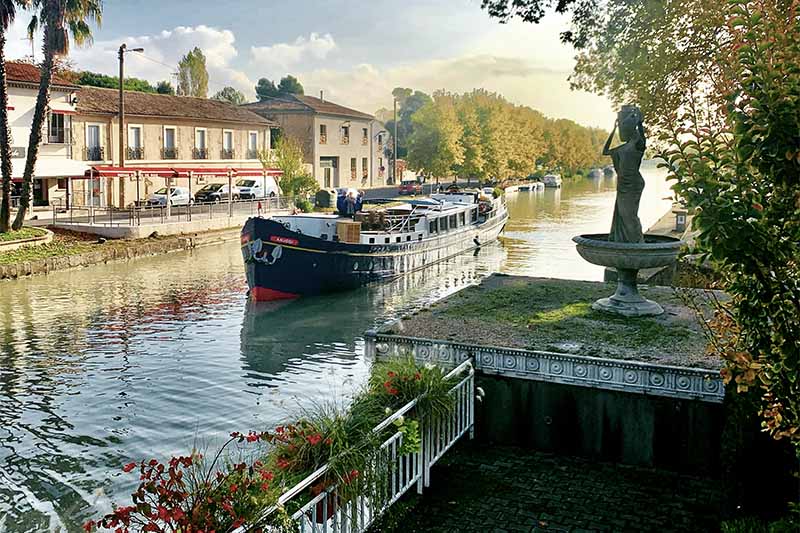 This was our first international trip since the start of the pandemic, so my husband and I were a little nervous about dipping our toes into hotel  barge cruising in France. However, from the moment we met Captain Laurent in Narbonne for our drive to Marseillan, where we were warmly welcomed with champagne and canapes by Chef Mickail and Hostess Zita, we knew our next 6 nights of pampering aboard the 4-cabin barge Anjodi with European Waterways would check all the boxes.
We were gently immersed into slow travel in one of the most romantic parts of the world as our luxury barge meandered gracefully along the tree-lined 17th century Canal du Midi. I had been to France many times over the years, but there was something different while traveling this "slow" way. I felt virtually no urgency to see the usual famous landmarks or to be programmed. This time, we came to France with no expectations. Seeing the rural landscape from the windows and deck of the Anjodi I was immediately grateful to be able to slow down on a tiny barge with a handful of experienced "travelers" and a passionate crew in a region of France I had not visited previously.  While an itinerary was planned, Captain Laurent, who has been sailing for over 15 years with European Waterways, fine-tuned and altered our daily plans from the moment we boarded and I embraced this more relaxed free-flowing barge adventure.
Our cabin, called "Thym", was just perfect with a comfy double bed and 3 portholes that opened. The shower and bathroom also had a porthole, and was bright and clean with fluffy bathrobes and towels. We packed light so everything found a place in the closet, drawers and hooks in the cabin.
The Captain and Chef seamlessly varied our routine for meal times, adjusting our time in the small villages we visited, while cruising through locks and tunnels and under arched bridges along the Canal du Midi. The raising and lowering of the roof top bimini throughout the day to adjust to the sun and the number of low bridges and tunnels became rhythmic and calming. All of our COVID and travel stress evaporated as we made ourselves comfortable on the top deck with the sun warming our faces.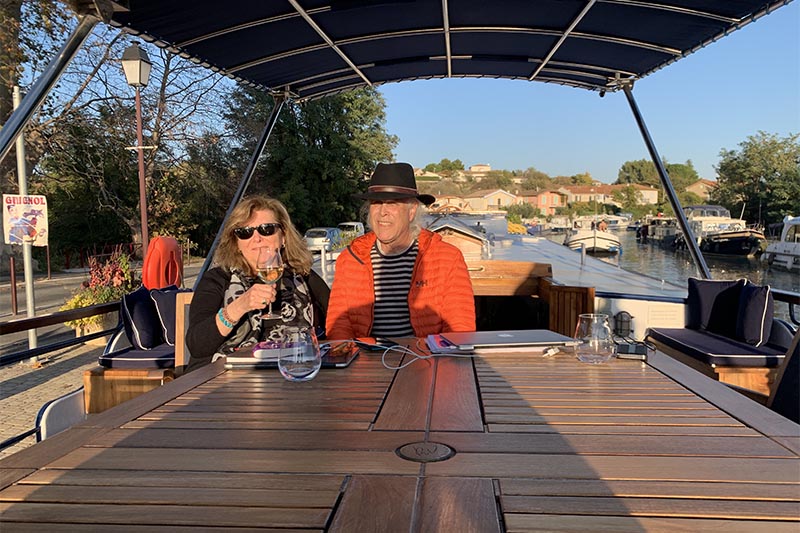 A moving feast of Food and Wine
Chef Mickail, masterfully created a moving feast of French and Mediterranean delicacies from the moment we arrived until the time we begrudgingly had to disembark. I consider a full breakfast an essential start my day and the breakfast, served buffet style from 7-9am in the traditional, French style saloon did not disappoint. I had ample time to relax and enjoy my fresh brewed coffee or cappuccino before digging into the fresh baguette, croissants and breads, French pastries, an assortment of cheeses and sliced meats, along with yogurt, fresh fruit, cereals and fresh squeezed orange juice. Eggs, any style were available by just letting Zita know.
At lunch and dinner each course was accompanied by Chef Mickail's personal stories about the recipes and details about the ingredients. Red and white wines were selected to pair with every dish and our hostess introduced the wine pairings while the Chef was busy preparing our food in the small galley. Each day the menu was posted on a small chalkboard in the saloon creating anticipation. This was fine French dining at its best for an entire week! Each of the four courses at lunch and dinner was served graciously and paced just right so we could savour every bite. One of the highlights was going shopping with our Chef to the art nouveau covered food market in Narbonne to help select fresh oysters, shrimps, mussels and other delights for lunch when we returned to our barge.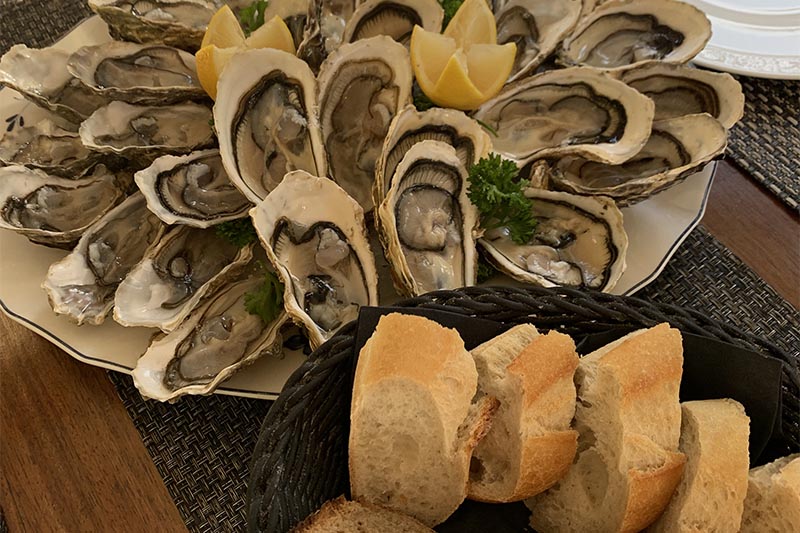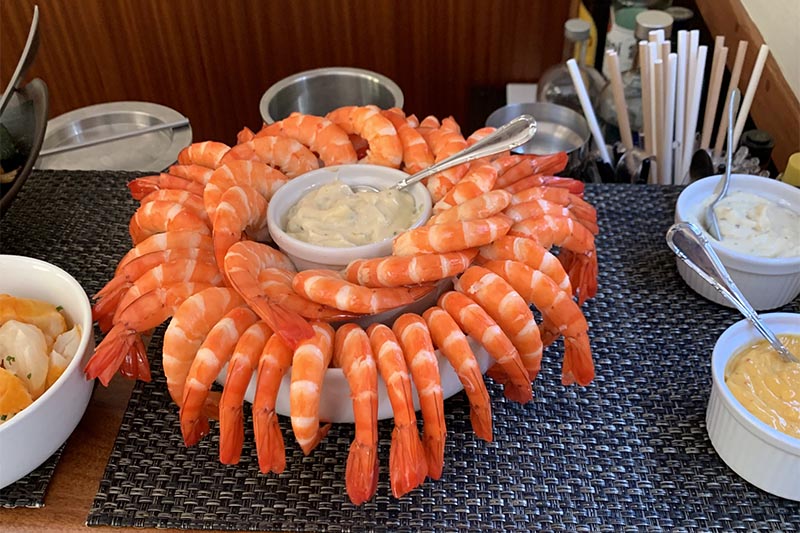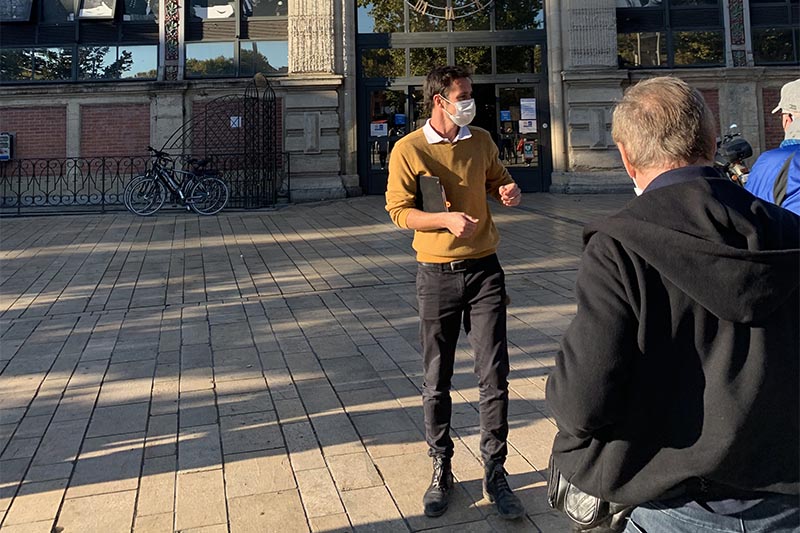 Just when we thought life couldn't get much better, we saw Zita setting the large wood table on the top deck for dining al fresco and watching the vineyards, gardens and other barges and houseboats pass by. All 7 of us ate our meals and enjoyed cocktails together throughout the cruise moving between the top deck and the saloon. We cajoled each other with stories about our previous and planned travel, our love of fine wine and gourmet food and how grateful we all were to be able to travel again after so long. We agreed that a small barge cruise was a great choice to avoid the crowds and be outdoors as much as possible.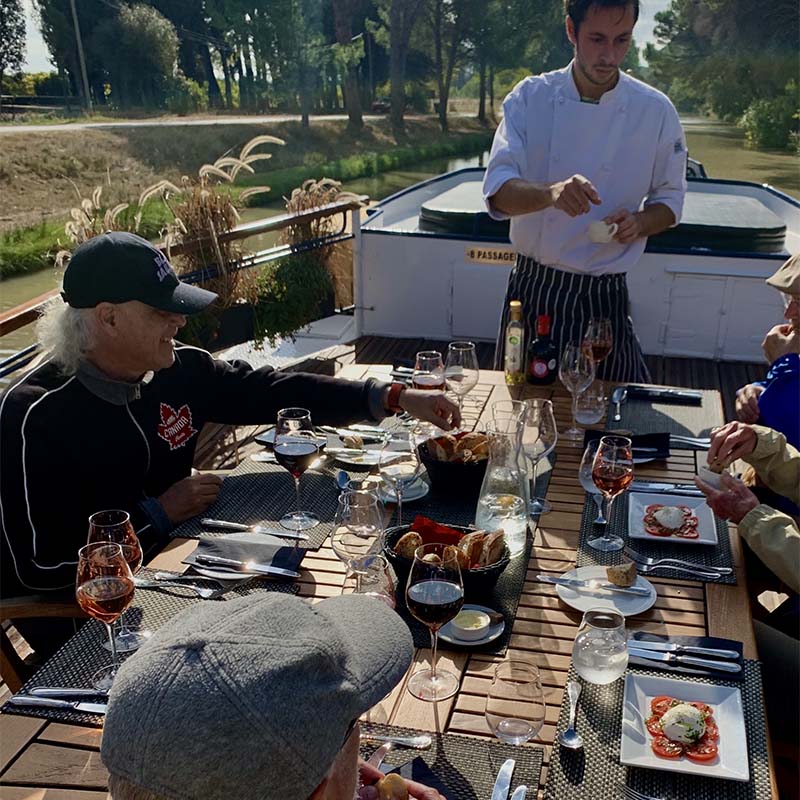 Lest I leave you thinking that all we did on the Anjodi for 6 days was eat delicious food and consume fine French wines, there were many other highlights on our barge cruise. Some other highlights included:
Walking and Cycling along the Canal du Midi
When we were in the mood to walk or cycle along the picturesque, gently rolling tow paths alongside the Plane tree-lined Canal du Midi, we just let the captain know and we could hop on and off as often as we wanted. We felt like locals being greeted by smiles from the others on the tow path.
Bicycles, helmets and maps were available for guests to explore the rural areas surrounding the canal and along the tow paths as well. For those wishing to cycle for longer periods of time, a Bike Plus plan was available and detailed maps and directions were provided on the length of rides and the meeting points along the canal to re-join the cruise.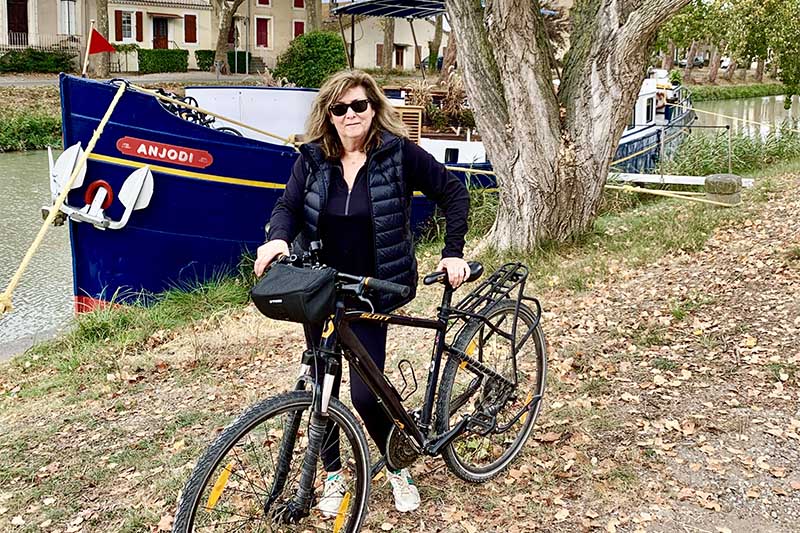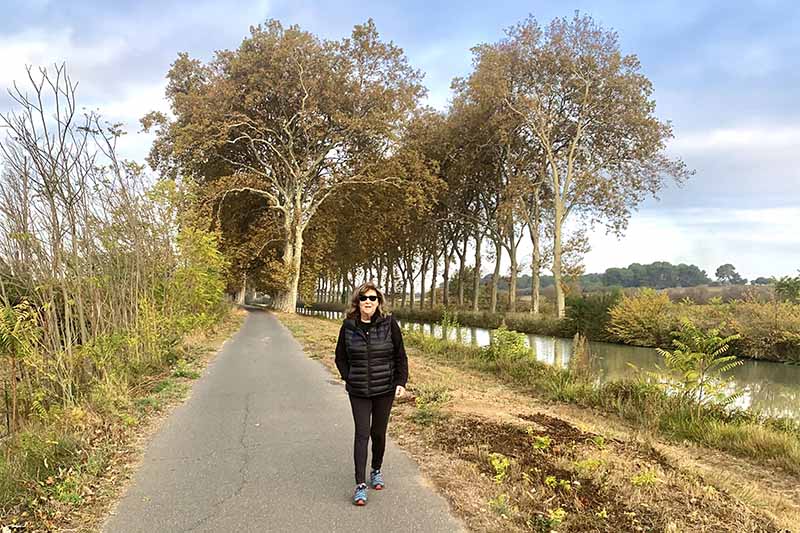 Winery Tour at the Château Pech-Celeyran
We enjoyed a Languedoc wine tour and tasting at the 145-hectare Chateau Pech-Celeyran, owned by the Saint-Exupéry family for over five generations. Antoine de Saint Exupery was a French pilot, poet and author. His adventures as an aviator inspired much of his writing including the most notable 1943 publication of The Little Prince, a delightful book that my children enjoyed years ago.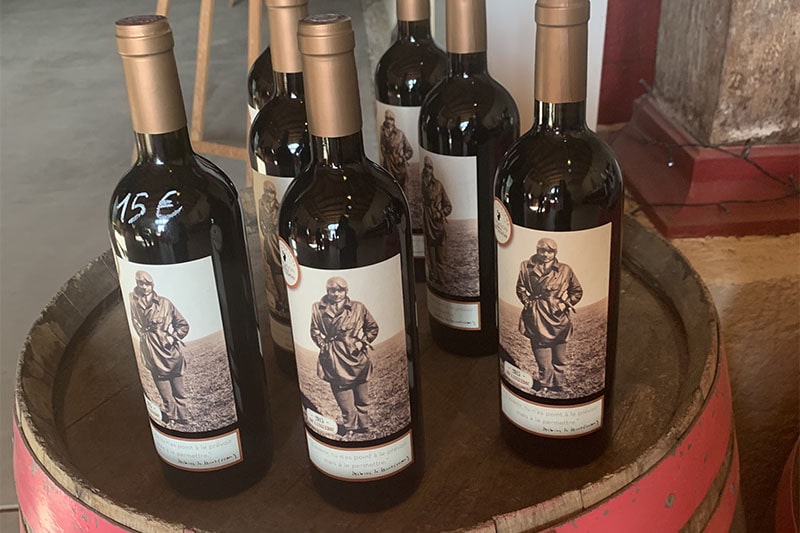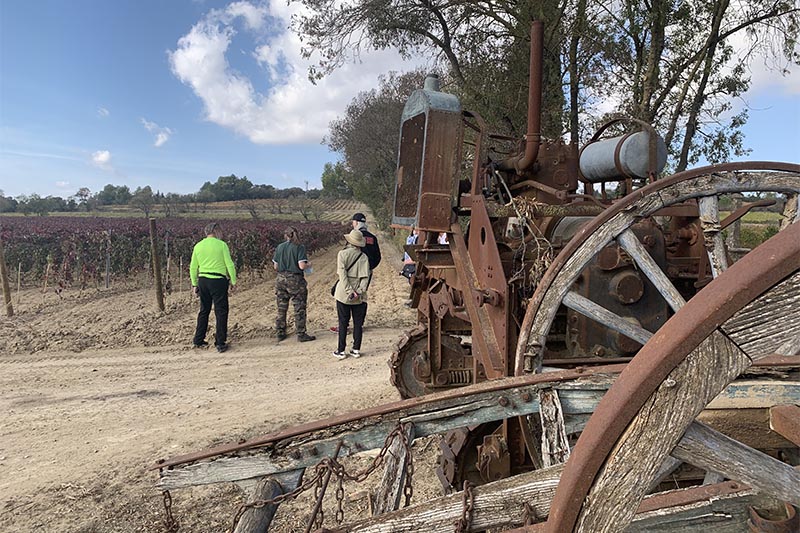 Visits to small medieval towns and villages within walking distance of the canal or a short drive away
We thoroughly enjoyed wandering the cobblestone streets and narrow alleyways in the perfectly preserved and protected tiny villages of Capestang, Pezenas and Minerve. It's as if time stood still!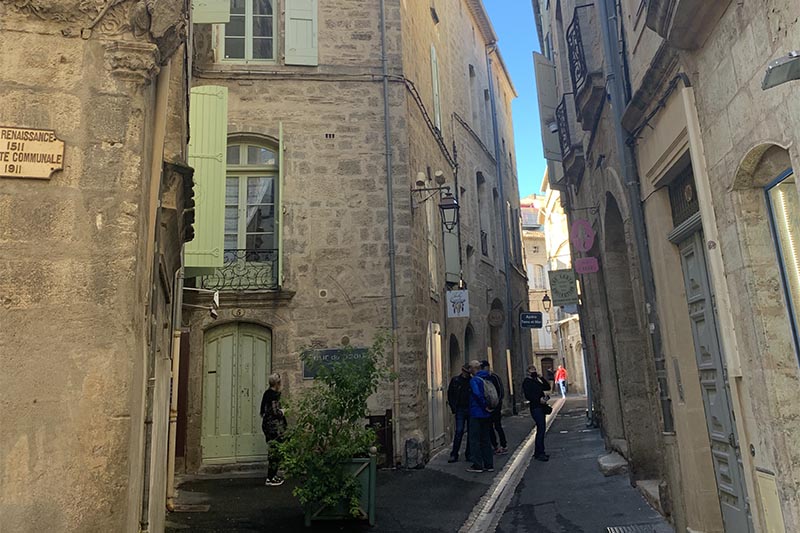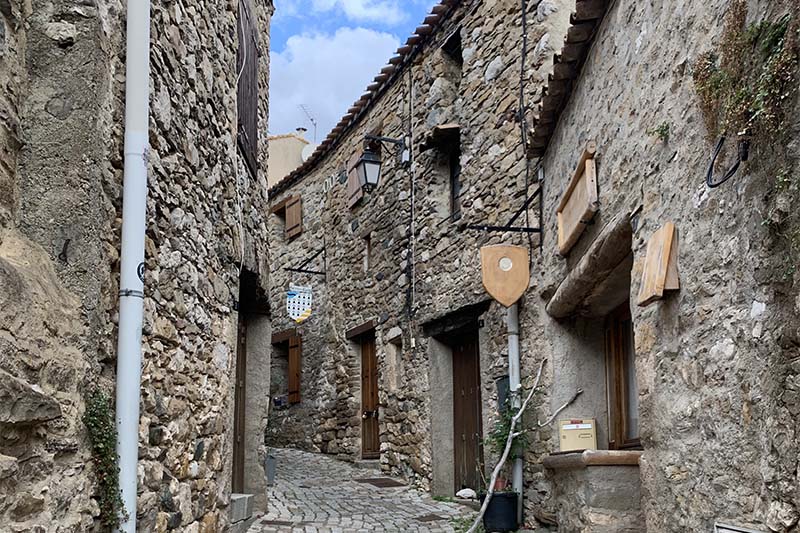 Cruising through the historical canal tunnel in Malpas
As we approached the legendary Malpas tunnel, built in 1679, we learned about the extreme engineering challenges of digging through brittle sandstone. Gliding through the tunnel, seated on the top deck, we were less than a metre from the arched sandstone etched tunnel walls.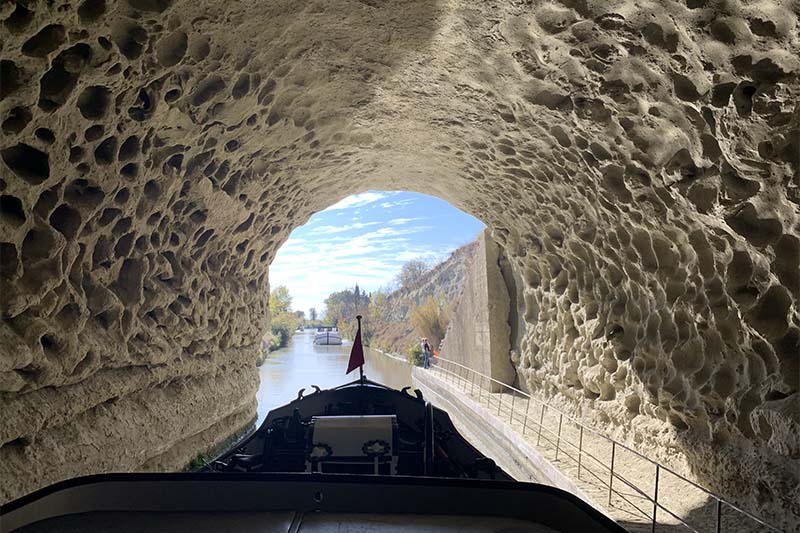 Negotiating the Fonserannes Staircase Locks
We cruised through a total of 24 locks along the canal. Negotiating the Fonserannes Locks (constructed between 1612-1681), a flight of staircase locks near Beziers was a truly staggering experience.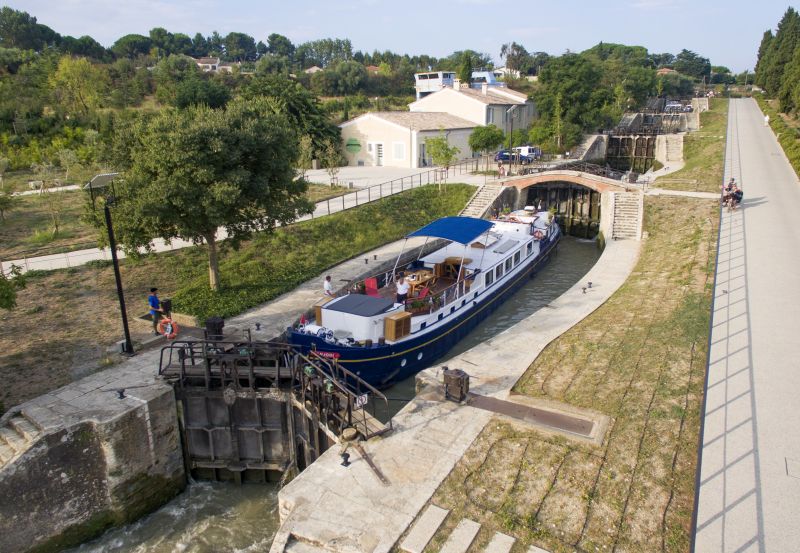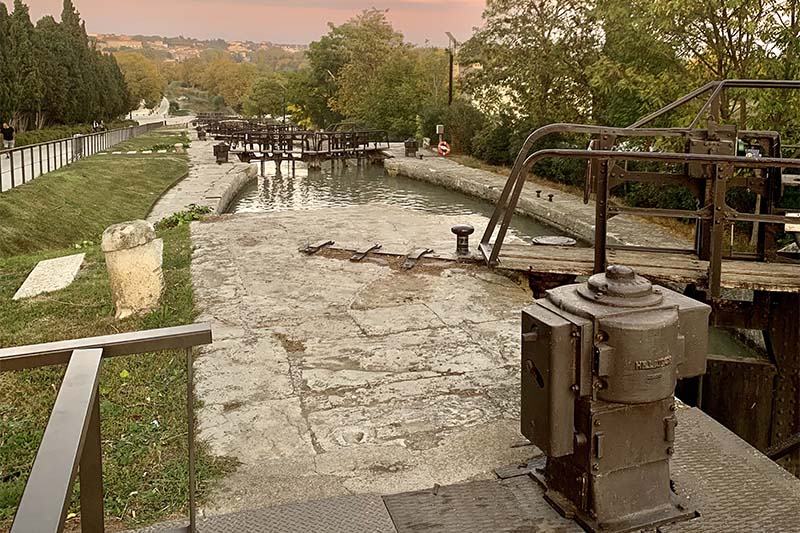 A surprise welcome back by a Jazz Trio enjoyed with cocktails and hors d'euvres before dinner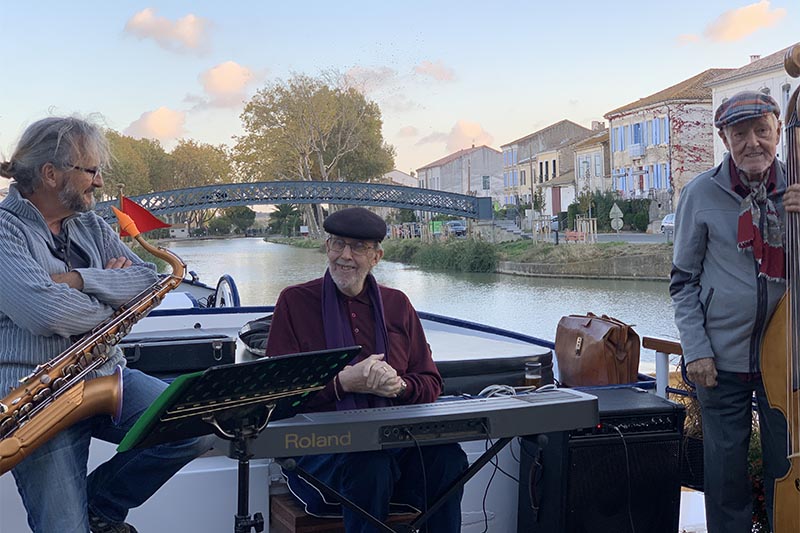 Walking Tours in the Historic and Colourful Cities of Carcassonne and Narbonne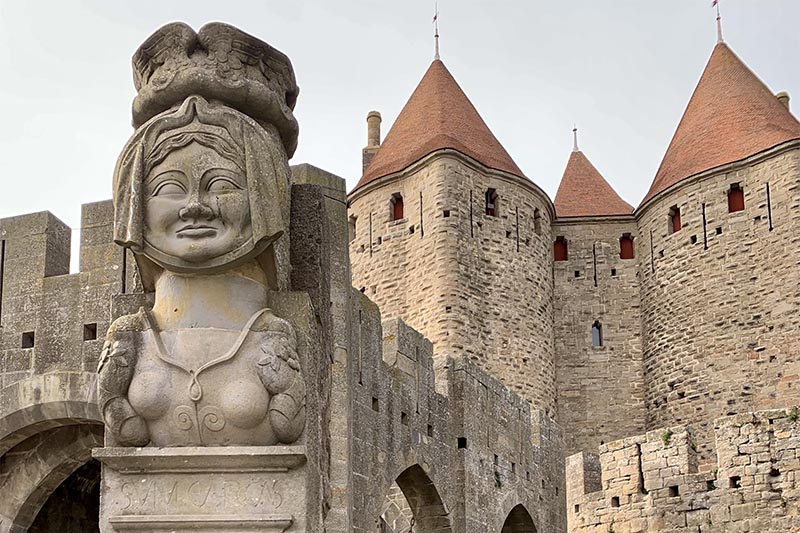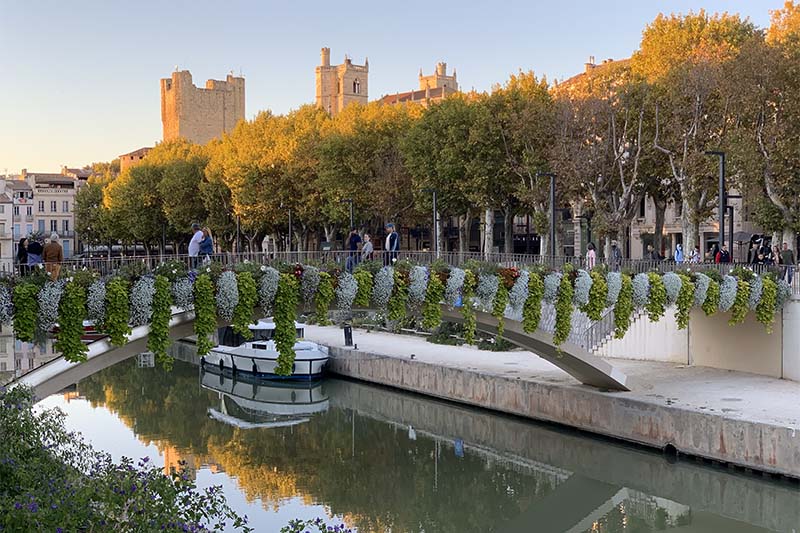 We met new friends, immersed in French history, learned about one of the oldest canals in the world, enjoyed delicious French dishes and wine, and soaked in the beauty that surrounded us as we cruised slowly and comfortably on the classic Barge Anjodi. Thank you to Laurent, Mickail and Zita, and everyone at European Waterways for memories we will cherish forever, and a most needed post-COVID, "slow" welcome back to international travel.
Merci beaucoup!
Meet the Author
Judi Cohen is a Travel Expert and Writer from Toronto, Canada. In October 2021, Judi and her husband Lawrence embarked on their first luxury hotel barge cruise aboard Anjodi along France's Canal du Midi.
Read her blog on TravelingJudi.Com >
Follow Judi on Instagram >
Most images © Judi Cohen