Hotel barging is a unique way to explore the glorious inland waterways of Europe. It offers you a flexibility you won't find on any large cruise ship or smaller vessel you have rented yourself, allowing you to make the most of your surroundings at all times. A huge positive for many guests is that they don't have to worry about navigating, steering or cooking for themselves.
'House Party' Atmosphere
Unlike much larger river cruisers with many passengers, a hotel barge is an intimate vessel with the ambiance of a small boutique hotel. On such a small vessel, you will be able to build friendships with the crew; the on-board chef will introduce his or her culinary creations to you at your table; the tour guide will get to know your interests and take you to some fascinating track' places you will love.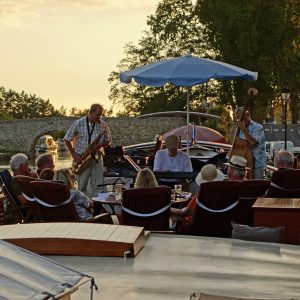 Imagine chartering a whole hotel barge for that long-awaited get-together with friends that you will all be reminiscing about at gatherings for years to come. Or maybe a hotel barge would be the perfect solution for a cruising holiday that can accommodate the whole family, enabling grandparents to spend valuable time with the little ones in some of the most stunning settings that Europe has to offer.
Gentle Cruising
Another advantage of a hotel barge is that it offers the opportunity to cruise on smaller waterways and canals that large vessels just cannot get to. Generally a hotel barge will travel less than 70 miles a week at just 4 miles per hour. You will always moor up for the evening and as a consequence you will be lulled to sleep by the gentle rocking of the boat rather than being kept awake by noisy engines.
The gentle pace of a hotel barge holiday enables passengers to truly appreciate their surroundings as they drift along delightful waterways, feeling fully immersed in the local history and culture.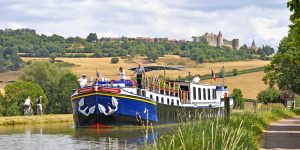 Unique Experiences
The fact that you can moor up on the towpath at any time and set off to explore by bicycle or by foot is another real advantage. Excursions are frequently made in small groups to places off the beaten track which may have passed unnoticed if you were travelling on your own.
A hotel barge offers its guests the chance to see breathtaking sights from the unique vantage point of the water. Many cruises give you an opportunity to appreciate some truly impressive feats of engineering. Gustave Eiffel's Aqueduct across the River Loire on the Canal de Briare, the amazing Arzviller Boat Elevator in Alsace and the Malpas Tunnel on the Canal du Midi are just a few examples of unforgettable cruising experiences.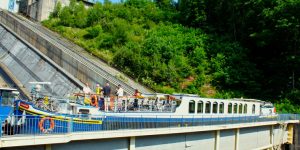 If the journey is just as important to you as the destination, then why not try a hotel barge holiday?