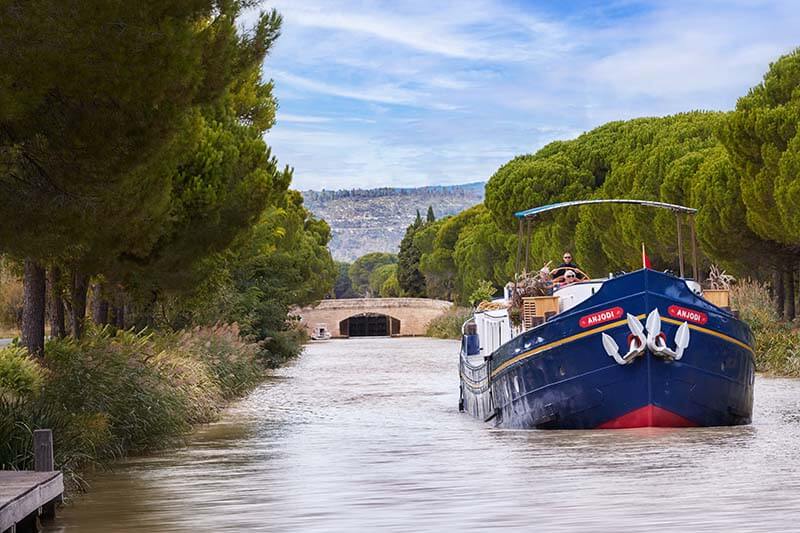 Caroline Tapp-McDougall cruises the Canal du Midi aboard Anjodi
Embarking on her first cruise after a lengthy lockdown in France, 8-passenger Anjodi welcomed Homefront Magazine's Caroline Tapp-McDougall on a 6-night cruise along the historic Canal du Midi…
Being taken care of for a few days was just what we needed, and the affable Captain Laurent and his crew are more than ready for us upon arrival. This is their first trip out since COVID began and they're happy to see us!
The European Waterways crew are barging veterans with a meticulous yet graciously, relaxing approach to onboard rules and taking care of us. Like us, each of them is painstakingly pre-cruise COVID tested, and will be tested again along the way. There's lots of laughter and stories to share, even before we set off, and plenty of fun along the way. We'll follow a daily schedule of optional activities, onboard gourmet meals with local wine tastings and daytime cruising along the canal.
Canal du Midi cruises aboard Anjodi
Caroline Tapp-McDougal travelled aboard 8-passenger hotel barge, Anjodi on the Canal du Midi in July 2021.
For her full itinerary, click here >
To browse our full collection of Canal du Midi cruises, click here >
To read Caroline's full article in Homefront Magazine, click on the 'Read More' button below.