Golf Cruise – Upper Loire & Western Burgundy
ITINERARY*
Sunday, Day 1 Montargis to Amilly
Guests are met at our meeting point in Paris** and transferred by private chauffeured minibus to the spacious Renaissance where a champagne welcome with canapés awaits and you meet the captain and crew. We enjoy an afternoon cruise through the picturesque "little Venice of Gâtinais". Dinner on board.
Monday, Day 2 Montargis to Montbouy
This morning we cruise through wooded countryside and past the old Bardin water mill, to reach our mooring in Montbouy. After lunch, we drive to Golf de Fontainebleau, regarded by many as the best golf course within the southern Paris area. This attractive, all-weather course lies deep in the private forest that forms part of the Fontainebleau estate. (18 holes par 72, 6074m). Dinner on board.
Tuesday, Day 3 Montbouy to Rogny-les-Sept-Ecluses
After breakfast, we enjoy a gentle cruise to our mooring at the village of Rogny-les-Sept-Ecluses, near its 350-year-old 7 lock-flight. In the afternoon, we drive to Golf du Château de Cely. Situated close to our overnight mooring, this recently refurbished golf course is quickly gaining a reputation as one of the foremost courses in the Parisian region. Set in the grounds of a former private château, the course has received great reviews from former Renaissance guests. (18 holes par 72, 5874m). Dinner on board.
Wednesday, Day 4 Rogny-les-Sept-Ecluses to La Gazonne
Today, we immerse ourselves in the world of impressionist art. We start with a short walking tour of Moret-sur-Loing, famous for its association with the Impressionist painter Alfred Sisley and see several his most famous scenes before continuing to the Chateau home of Rosa Bonheur. Rosa Bonheur was the most celebrated female artist of the 19th Century; a pioneer in a man's world and a champion of women's rights. Her best-known paintings are of animal scenes including one of Buffalo Bill on horseback which prompted an enduring friendship between the two. We take lunch in the private salon of the chateau before joining the present owner for a tour and to hear more about the history of this remarkable lady and view some of her works. Later, we enjoy an afternoon cruise past the Rogny lock flight to La Gazonne, a beautiful rural mooring surrounded by lakes and ponds that provide water for the workings of the Canal de Briare. Dinner on board.
Thursday, Day 5 La Gazonne to Briare
Morning cruise to Briare and Gustave Eiffel's magical aqueduct across the River Loire with more walking and bicycling opportunities. We preview Friday's crossing of this amazing 10,000 ton, 662 metre Pont Canal which was completed in September 1896. In the afternoon we drive for 1 hour to Domaine du Roncemay Golf & Country Club. This international standard course, designed by Jean Garaialde in 1991 has hosted many of France's top competitions. Overlooked by the château in whose grounds the course has been laid out, the length and technical nature of the course offer a challenge to even the most advanced player. (18 hole, 6219m). Dinner on board.
Friday, Day 6 Briare to Châtillon-sur-Loire
This morning we visit the market in Briare with its food and fashion stalls, before returning to the hotel barge for lunch and a spectacular cruise across the Briare aqueduct with its ornate iron lampposts and railings, spanning the wide River Loire below. After lunch, we drive to Golf du Sanserrois. Located on the banks of the River Loire, this golf course, set amongst century-old trees and ornamented by natural water hazards, is considered one of the most attractive in this part of France. The quality of the greens, the friendly atmosphere and the backdrop of Sancerre vineyards make for a splendid round of golf. Return to the hotel barge for a short cruise across the Briare Aqueduct built in the 1890's by Gustave Eiffel over the River Loire. (18 hole, par 71, 5820m). Captain's Farewell Dinner on board.
Saturday, Day 7 Châtillon-sur-Loire
After breakfast, guests are transferred by private chauffeured minibus to central Paris**.
This is a sample itinerary and is subject to change.
On alternate weeks the cruise will be in the reverse direction.
Golf cruises include pre-booked and paid tee times and transfers to and from the golf clubs.
Hire of clubs, caddy or buggy are not included.
**Other locations available for Private Charter bookings
CONTACT US ABOUT THIS CRUISE
Cruise Route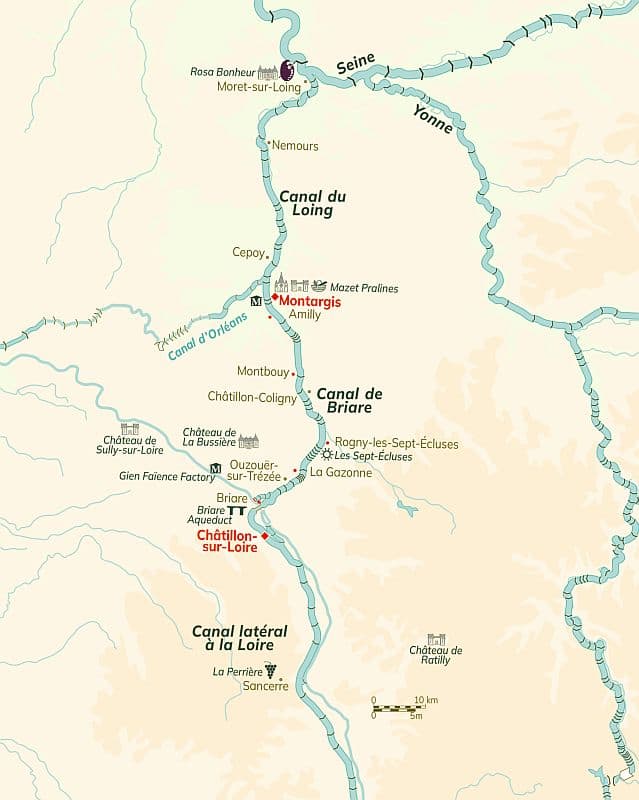 Photo Gallery
Renaissance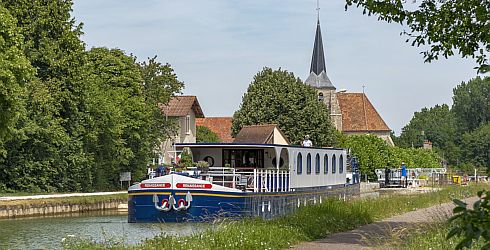 Renaissance is an ultra-deluxe, 8 passenger hotel barge that cruises the canals of the Upper Loire and Western Burgundy