Golf Cruise – Gascony
ITINERARY*
Sunday, Day 1 Boé
Guests are met in Toulouse** and transferred by private chauffeured minibus to Rosa. Following a champagne and canapés welcome, there is time for a gentle stroll along the towpath in Agen before your first dinner on board.
Monday, Day 2 Boé to Pommevic
Today, we enjoy our first round of golf at the impressive Golf d'Albret situated in expansive parkland with wonderful views of the surrounding valleys and bastide villages.  After lunch on board we enjoy a leisurely cruise through the bucolic countryside to Pommevic near Valence d'Agen, an 18th century "Bastide" town with its Palladian canalside public wash-house and arcaded market place. Dinner on board.
(18 holes, par 72, 5760 metres)
Tuesday, Day 3 Pommevic to Moissac
After breakfast, we enjoy a guided tour of the inclined Water Plane, an amazing feat of engineering that by-passes five locks and allows our hotel barge to descend the 43 feet all in one go. Morning cruise to Castelsarrasin and lunch on board. In the afternoon, we drive to Golf Montauban L'Estang. It is the longest course in the region and is set in a nature reserve with superb panoramic views. A challenge for any golfer. Dinner on board. (18 holes, par 72, 6309 metres)
Wednesday, Day 4 Moissac to Castelsarrasin
This morning we visit the UNESCO-classified 7th century Abbaye St-Pierre de Moissac for a private tour and lunch at its excellent restaurant, 'Le Florentin', situated in front of the spectacular entrance of the abbey. Later, we cruise the river Tarn via the 1,000-foot-long aqueduct, the Pont Canal du Cacor, then descend towards Moissac through a staircase of delightful locks. Dinner on board.
Thursday, Day 5 Castelsarrasin to Montech
On this morning's cruise, Rosa rises up from the Tarn and turns west on the brick-lined canal through Moissac. After negotiating the swing bridge, we cruise between the placidly-flowing waters of the Garonne and the foothills of the Quercy massif, before mooring at Pommevic. After lunch, we transfer to Golf d'Espalais, a gentle course with beautiful water features located in the Auvillar foothills. Afterwards, if there is time, we can take a short drive to Auvillar, a 15th century village atop a gorge above the River Garonne. Dinner on board. (9 holes, par 35, 2286 metres)
Friday, Day 6 Montech to Montauban
This morning, we drive to Golf International Toulouse Seilh which offers two courses set in rural countryside. There is the championship 'Rouge' course which features in the European Challenge Tour and provides a sterner, or the more forgiving 'Yellow' course. For our final afternoon cruise, Rosa meanders down the flight of ten locks on the beautiful and recently-restored branch canal skirting the Forest of Agre and moors in the port of the historical town of Montauban. Captain's Farewell Dinner on board.
(18 holes, par 72, 5577 metres), (18 holes, par 64, 5852 meters)
Saturday, Day 7 Montauban
After breakfast, guests are transferred by private chauffeured minibus back to their choice of location in Toulouse**
*This is a sample itinerary and is subject to change. On certain weeks the cruise will be in the reverse direction.
**Other locations are available for Private Charter bookings
CONTACT US ABOUT THIS CRUISE
Cruise Route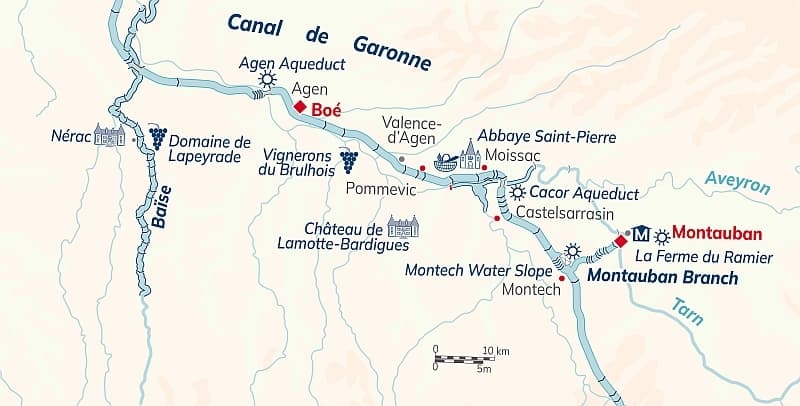 Photo Gallery
Rosa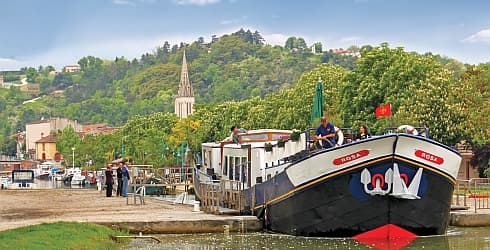 Rosa is a first class, 8 passenger hotel barge that cruises the Gascony and Bordeaux regions of southwest France
Related Articles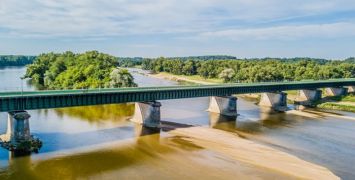 If you're a civil engineering buff, the waterways of France will provide much to marvel over (and under, and through!) Read More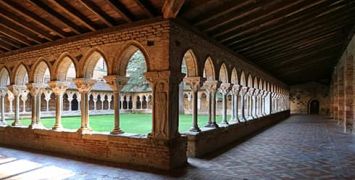 The Abbaye de Moissac, in the foothills of the Quercy vineyards near the River Garonne, feature awe-inspiring architecture that tell stories that date back to the early 1100s. Visit on... Read More