Wine Appreciation Cruise – Upper Loire & Western Burgundy
ITINERARY*
Sunday, Day 1 Châtillon-sur-Loire to Briare
Guests are met at a location of their choice in central Paris** and transferred by private chauffeured minibus to the spacious Renaissance where a Champagne welcome with canapés awaits and time to meet your Captain and crew. We enjoy a short evening cruise to Briare, crossing Gustave Eiffel's magical aqueduct over the River Loire, an amazing 10,000 ton, 662 metre structure, which was completed in September 1896. Dinner on board.
Monday, Day 2 Briare to La Gazonne
After a leisurely breakfast, we cruise north to La Gazonne, a beautiful rural mooring surrounded by lakes and ponds that provide water for the workings of the Canal de Briare. After lunch onboard we head to the renowned Sancerre winery of La Perriere. Having stopped to view the vineyards and learn something about viticulture, we then visit the winery, with its operations and cellars all set spectacularly inside huge natural caves. We enjoy a private tour and a tasting of some of their best vintages. Dinner on board.
Tuesday, Day 3 La Gazonne to Rogny-les-Sept-Ecluses
This morning, your wine guide escorts you on a visit to Domaine Chatelain, a winery founded nearly 400 years ago on the right bank of the River Loire in St Andelain and maker of some wonderfully flinty Pouilly-Fumé wines. Here we enjoy a winery tour and of course, a private tasting. After lunch back on board the barge we cruise further along the canal, with plenty of opportunities for walking or cycling along the towpath, to our mooring at Rogny-les-Sept-Ecluses near its 350-year-old 7 lock-flight, which is well worth exploring. Dinner on board.
Wednesday, Day 4 Rogny-les-Sept-Ecluses to Montbouy
Today, we immerse ourselves in the world of impressionist art. We start with a short walking tour of Moret-sur-Loing, famous for its association with the Impressionist painter Alfred Sisley and see several his most famous scenes before continuing to the Chateau home of Rosa Bonheur. Rosa Bonheur was the most celebrated female artist of the 19th Century; a pioneer in a man's world and a champion of women's rights. Her best-known paintings are of animal scenes including one of Buffalo Bill on horseback which prompted an enduring friendship between the two. We take lunch in the private salon of the chateau before joining the present owner for a tour and to hear more about the history of this remarkable lady and view some of her works Afterwards, we enjoy a relaxing afternoon cruise to the lovely village of Montbouy. Dinner on board.
Thursday, Day 5 Montbouy to Amilly
An early departure after breakfast as our wine guide takes us on a tour of the vineyards and town of Chablis, dating back to Roman times, where we enjoy a private wine tasting at a winery such as the long-established Domaine Fevre. Owned by award-winners Nathalie and Gilles Fevre, the domaine makes the most of the region's wonderful local terroir to produce high quality wines. After lunch on board, we leave Montbouy for a gentle afternoon cruise through the villages of Montcresson and Conflans-sur-Loing. There's time for a walk or cycle ride into Conflans-sur-Loing before dinner on board.
Friday, Day 6 Amilly to Montargis
Our last cruise north is through wooded countryside and past the old Bardin water mill, to reach our final mooring in Montargis. This historic town is known as Little Venice because of its numerous watercourses which criss-cross the settlement and span the flower-decked bridges. In the afternoon, we explore Montargis on foot, viewing the 11th century chateau before passing through the picturesque Fishermens Quarter; its half-timbered houses bordering the canals. Arriving at the 12th century Church of the Madeleine, we stop to admire its soaring 75-foot-high nave. Our footsteps finally bring us to Mazet, the confectioners renowned for creating the original praline recipe over one hundred years ago. Here, we observe the chocolate production and enjoy a tasting of their delicious products. Captain's Farewell Dinner on board.
Saturday, Day 7 Montargis
After breakfast, guests are transferred by private chauffeured minibus to their choice of location in Paris**
**other locations available
This is a sample itinerary and is subject to change.
On alternate weeks the cruise will be in the reverse direction.
CONTACT US ABOUT THIS CRUISE
Cruise Route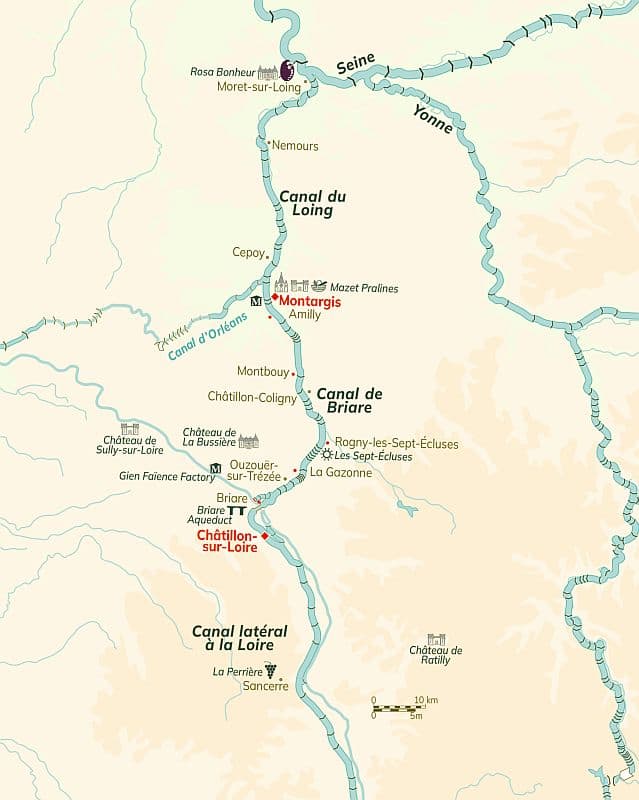 Photo Gallery
Renaissance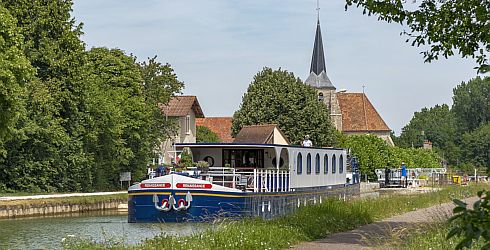 Renaissance is an ultra-deluxe, 8 passenger hotel barge that cruises the canals of the Upper Loire and Western Burgundy