Family Cruise - England
ITINERARY*
If you are a family with children, we are able to create a bespoke itinerary and substitute a maximum of 4 excursions from our Classic Cruise Itinerary with your preferred family activities.
The following activities can usually be arranged on-board directly with the barge Captain and included in your itinerary without any extra charge (unless otherwise stated):
The Look Out Discovery Centre
An exciting hands on science centre with over 90 activities for children to enjoy and learn, launch hydrogen rockets or experiment with boats on the indoor stream, there's plenty to keep them occupied!
Beale Park
A wonderful outdoor wildlife park set in 30 acres of grounds and forest, take a miniature train ride, visit the toy museum, stroll through the deer park or meet some of the friendly animals such as alpacas, owls and even meerkats.
Bekonscot Model Village
The world's oldest model village! Opened in 1929 there are over 1.5 acres of gardens and detailed model buildings to explore, not to mention one of the largest model railways in Europe – a must visit with the family.
Eton College 
Enjoy a guided tour through one of the world's most famous colleges where you will walk in the footsteps of revered authors, renowned businessmen and political powerhouses, covering everything from the college chapel to the museum of Eton Life.
River and Rowing Museum
An excursion designed for those who appreciate the magic of the river; housing four permanent galleries and an interactive Wind in the Willows exhibition, this is an ideal way to get lost in the art and the history of the River Thames.
Legoland
Watch as the iconic building blocks of their childhood come to life, a simply spectacular theme park  with DUPLO play areas for toddlers, a driving school, hands on LEGO building activities and over 55 Roller Coasters, shows and attractions.
Warner Brothers Harry Potter Studios
Another visit ticked off the childhood bucket list! Walk in the footsteps of Harry Potter and explore the wonders of the wizarding world and step onto iconic sets like the Great Hall and Diagon Alley and experience the magic from book to screen.
Thorpe Park 
Hold on to your hats as you head for the thrilling heights of Thorpe Park! With over 30 rides, and a boatload of other attractions it is the ultimate theme park for thrill seekers, buckle in on Stealth and go from 0 – 80 mph in less than 2 seconds or relax by the pool at Amity Beach.
Tennis at the Runnymede-on-Thames
Your gracious hosts aboard Magna Carta will be more than happy to arrange a court for you at the Runnymede Hotel, who will provide all the equipment needed so that you can focus on that backhand!
Brooklands Museum
Home of the Concorde, Brooklands is an outstanding aviation museum and the birthplace of British Motorsport; comprising a flight simulator, an aircraft factory, flight shed, motoring village and the world's first purpose built race circuit, this will delight adults and children alike.
Other activities* – shown below – can be arranged but, due to their nature, they should be booked directly by the client with the activity provider. These activities are:
Liquid Leisure
A floating aquatic adventure obstacle course on a man made lake close to Windsor, participants must be 6 or older and competent swimmers
Go Ape
Time to monkey about amongst the treetops as you strap in and cavort about the place on ropes, swings and zip wires – minimum age of 10 years.
Paintballing/Go Karting 
Hit the track or the forest for a high adrenaline day of driving or battling your opponent amidst the paint and the trees! Age restrictions apply
Bracknell Leisure Centre
A variety of activities are on show here, from the ice skating to skiing or snowboarding there's a little something for everyone.
Oakwood Climbing Centre 
A brilliant indoor climbing centre, offering taster sessions with experienced instructors or the opportunity to free roam and try your hand at bouldering or climbing.
Thorpe Lake Waterski 
Sheltered, safe waters in a beautiful private venue at the heart of the Surrey countryside provide the perfect place to have a go at waterskiing or wakeboarding.
CONTACT US ABOUT THIS CRUISE
Cruise Route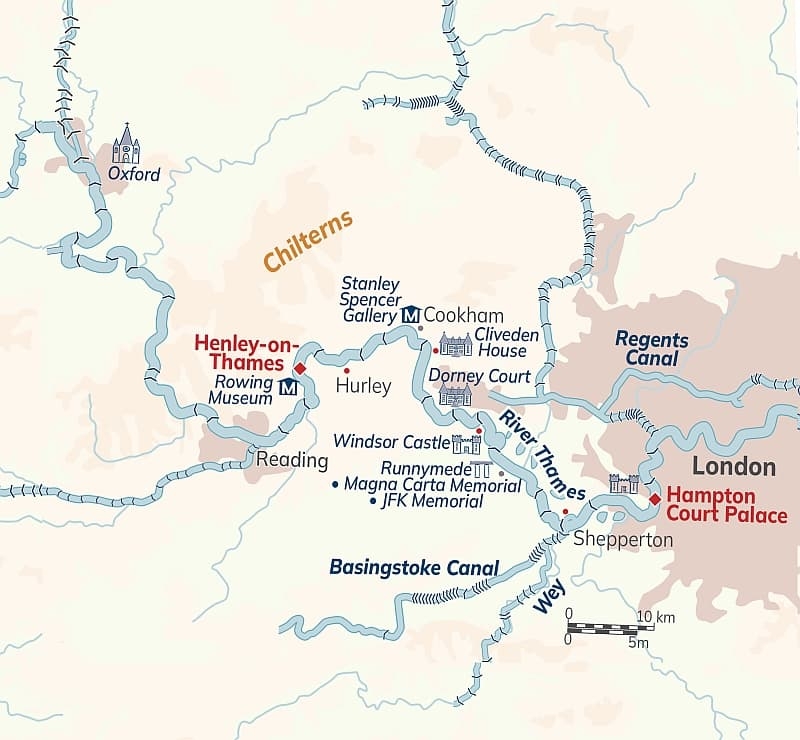 Photo Gallery
Magna Carta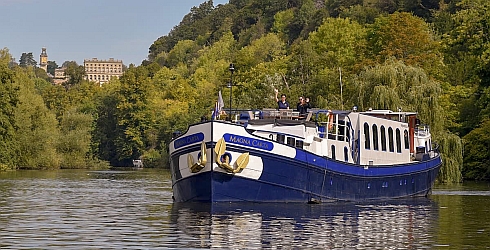 Magna Carta is a deluxe, 8 passenger hotel barge that cruises the charming upper stretches of the Royal River Thames in England
Related Articles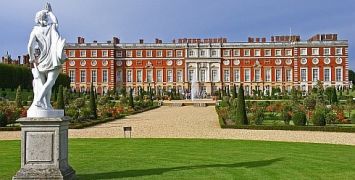 Visit Hampton Court Palace to stroll the spectacular gardens, see fabulous furnishings and experience the ghost of Henry VIII's wife! Read More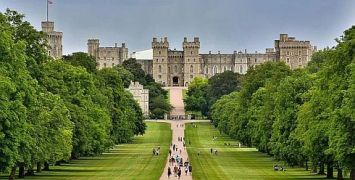 Windsor Castle was founded by William the Conqueror, a French claimant to the English throne, who seized the Crown in 1066 at the Battle of Hastings. Read More