Golf Cruise - Canal du Midi
ITINERARY*
Sunday, Day 1 Trebes
Guests are met in Narbonne** and transferred by private chauffeured minibus to Enchante. A Champagne Welcome awaits you, with the chance to meet your Captain and crew followed by dinner on board.
Monday, Day 2 Trebes to Puicheric
Fascinating morning tour of Carcassonne. Dating back to the Gallo-Roman era, this is the most complete mediaeval fortified city in existence today with its 52 watchtowers, portcullis and extraordinary repertoire of defences, which resisted the many armies that tried to storm this glorious Camelot setting. Following a lunch cruise you will head to Golf de Carcassonne. Challenging water obstacles and bunkers make this a tactical golf course for players of all levels. Dinner on board.  (18 holes, 5,800m, Par 71).
Tuesday, Day 3 Puicheric to Homps
Morning cruise under the shade of the plane trees which line the canal to Puicheric. After lunch we golf at Golf de St Thomas. This course offers various types of play: woods, hills, lakes and on some fairways a more classic approach. We continue cruising to a picturesque mooring under the trees, a perfect opportunity to try your hand at boules followed by an alfresco dinner on board. (18 holes, par 72, 6130m).
Wednesday, Day 4 Homps to Roubia
This morning we play golf at Lamalou-les-Bains Golf Course located at the foot of Mt Carooux by the River Orb, this course with its three small lakes, is flat, wooded, short, technical and most enjoyable. Enjoy lunch ashore before returning to the barge for an afternoon cruise, we transverse the canal bridge l'Epanchoir, one of the many feats of engineering invented by Pierre Riquet for the Canal du Midi, to Roubia. Dinner on board.  (9 holes, 2,600m, Par 35).
Thursday, Day 5 Roubia to Le Somail
Morning cruise through vineyards and pine trees to the charming and historical village of the Le Somail, purpose built for the Canal du Midi. Take some time to explore the old bookstore of Le Somail. The afternoon excursion is a wine tour and tasting in a Château in Minervois – one of the few regions to receive the much-envied French mark of approval for wines known as A.O.C. (Appellation d'Origine Controlée). Dinner on board.
Friday, Day 6 Le Somail to Sallèles d'Aude
This morning we enjoy a round of golf at Cap d'Agde. This golf course is located in a colourful landscape created by one of the world's most renowned architects, Ronald Fream. An outstanding and inventive course whose greens are jealously protected by bunkers that you will never forget. Afternoon cruise through the series of locks and narrow bridges of the Robine Canal, built after the Canal du Midi to link Narbonne and the Mediterranean. Cycle ahead and explore the village of Sallèles d'Aude, our final mooring. Captains Farewell Dinner on board.(18 holes, 6,301m, Par 72).
Saturday, Day 7 Sallèles d'Aude
After breakfast, guests are transferred by private chauffeured minibus to their choice of location in Narbonne**.
On alternate weeks the cruise will be in the reverse direction. This is a sample itinerary and is subject to change.
**Other locations are available for Private Charter bookings
CONTACT US ABOUT THIS CRUISE
Cruise Route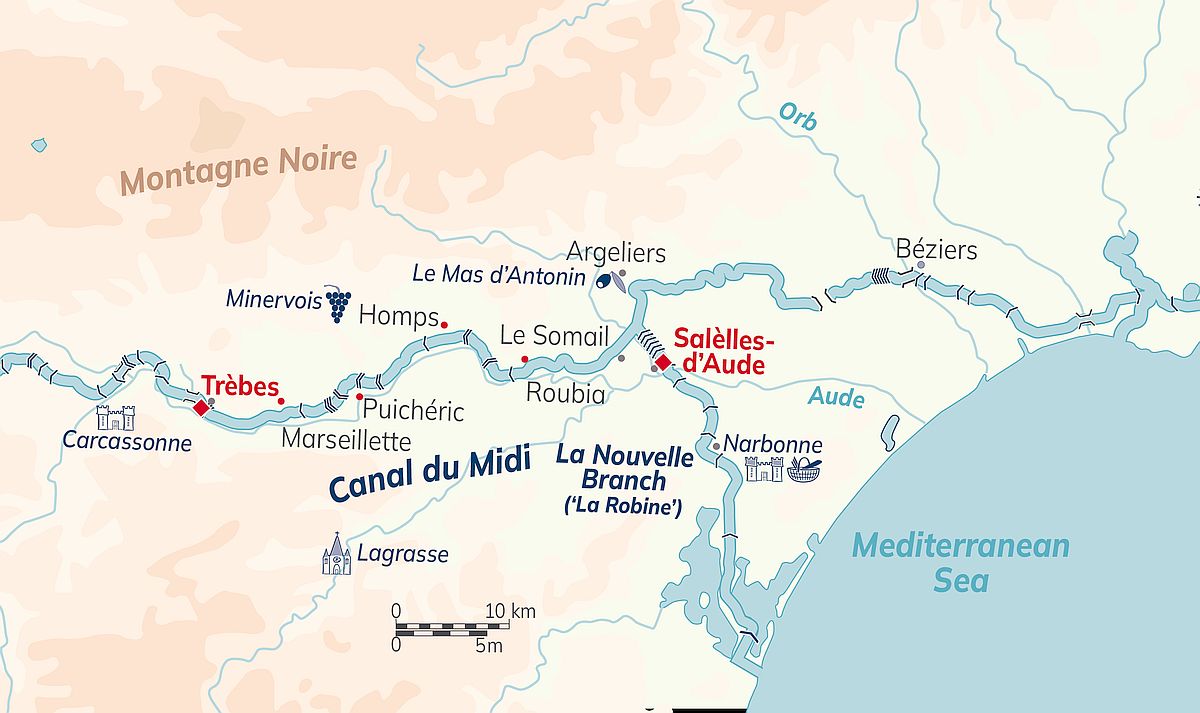 Photo Gallery
Enchanté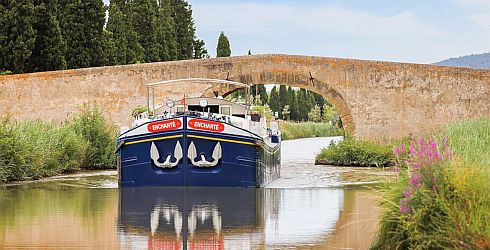 Enchanté is an ultra deluxe, 8 passenger hotel barge that cruises the sun-drenched Canal du Midi in southwest France