Classic Cruise – Canal du Midi
ITINERARY*
Sunday, Day 1 Sallèles d'Aude to Le Somail
Guests are met in Narbonne** and transferred by private chauffeured minibus to Enchanté where a champagne welcome and cruise to Le Somail awaits. Dinner on board.
Monday, Day 2 Le Somail to Roubia
This morning, we head to Mas d'Antonin for some truffle hunting. Follow the expert truffle dogs searching under the oak trees to find the "black gold" which we can help to dig up and understand its appearance, colour and most important – its aroma. Here, we'll also learn about the different olives of the region and taste the oils that they produce. After lunch on board, we cruise west along the Grand Bief, a stretch of canal without locks which follows the contours of the land for over 30 miles – a huge technological achievement for the 17th century- to the charming historical village of Roubia. On the way, we pass over France's oldest aqueduct, the Pont du Gard. Dinner on board.
Tuesday, Day 3 Roubia to Homps
After breakfast, our excursion is to Narbonne, a Roman Mediterranean capital where the Visigoth monarchs once lived. Enjoy a visit to the Archbishop's Palace, Roman Horreum and the indoor market at the hub of this bustling canalside town, where you will have time to shop or simply absorb the vibrant atmosphere. Afternoon cruise past vineyards and pine trees to Homps. This picturesque mooring in the heart of a French village presents a perfect opportunity to explore on foot, or perhaps try your hand at a game of boules, followed by an alfresco dinner on board.
Wednesday, Day 4 Homps to Puichéric
This morning we enjoy a private winery tour at the family-owned 17th century Château de Paraza whose 70 hectares of vineyards border the canal. After tasting some of their fine wines, among the best in the Languedoc, we have a private lunch in the château's salon. This afternoon, we return to the barge for a cruise to Puichéric, past l'Epanchoir' – one of the bridges invented by Pierre Paul Riquet for the Canal du Midi. Dinner on board. board.
Thursday, Day 5 Puichéric to Marseillette
Today we visit the fortified hilltop village of Minerve, named one of the 'plus beaux villages de France', and learn about its dramatic medieval history as centre of the Cathar religious rebellions against the Catholic church. This afternoon, we'll cruise along the 340-year-old canal ascending its trademark locks as the relief becomes steeper. This is a great opportunity to walk or cycle from one lock to the next as Enchanté cruises on, navigating the triple locking system. Dinner on board.
Friday, Day 6 Marseillette to Trèbes
Fascinating morning tour of Carcassonne. Dating back to the Gallo-Roman era, this is the most complete medieval fortified city in existence today with its 52 watchtowers, portcullis and extraordinary repertoire of defences, which resisted the many armies that tried to storm this glorious Camelot setting. This afternoon we squeeze through tight bridges and glide past picturesque vineyards and hamlets to Trèbes. Once a major ally to Carcassonne, this medieval town still retains unique paintings within its 13th century church. Captain's Farewell Dinner on board.
Saturday, Day 7 Trèbes
After breakfast, guests are transferred by private chauffeured minibus to their choice of location in Narbonne**.
This is a sample itinerary and is subject to change.
On alternate weeks, the cruise will be in the reverse direction.
**other locations available for private Charter bookings
CONTACT US ABOUT THIS CRUISE
Cruise Route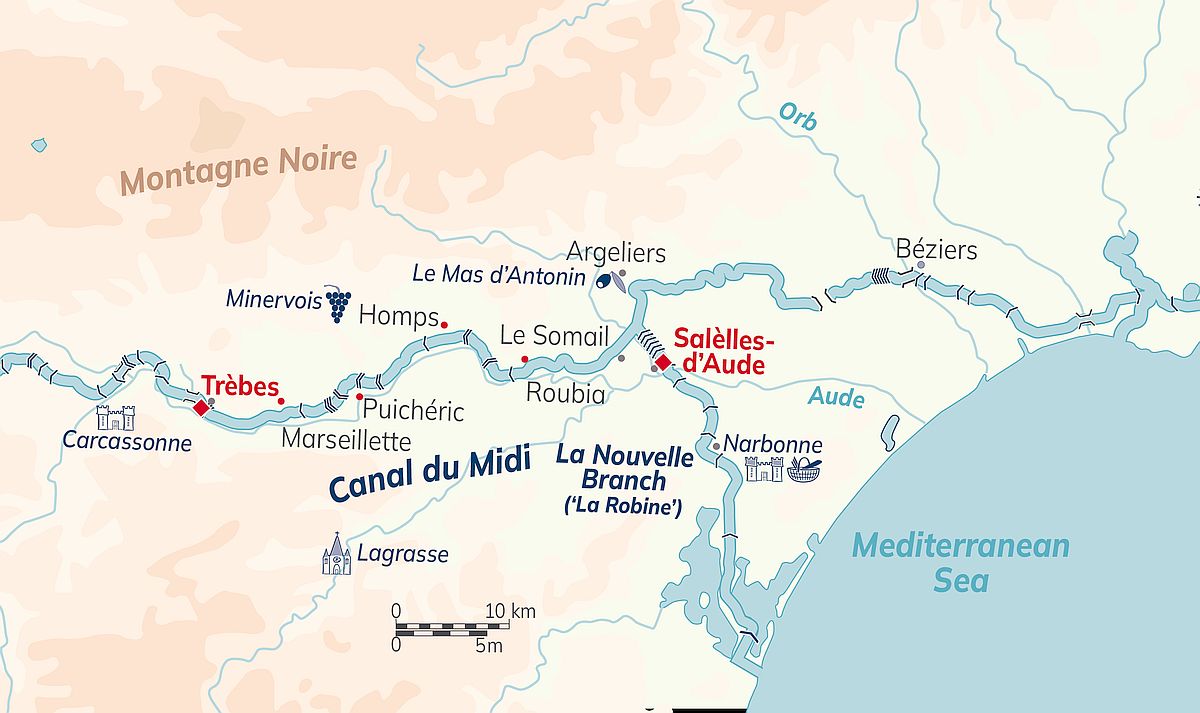 Photo Gallery
Enchanté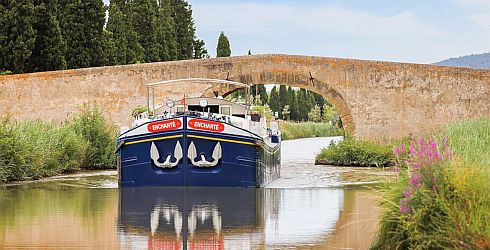 Enchanté is an ultra deluxe, 8 passenger hotel barge that cruises the sun-drenched Canal du Midi in southwest France