Top 6 Canals to Cruise in France
France is one of the most popular tourist destinations in Europe, and it's easy to see why. Aside from their love of the finer things in life when it comes to wine and food, the French take great pride and care in their booming travel industry, which is primarily driven by some of the most interesting and historically-rich countryside in the world.
You'll find canals in cities and towns, as well as in villages you'd never even know existed, but that in times gone by, served as essential transport networks for moving people and goods around the country.
From the moment you step aboard one of our luxury French canal cruises, you're guaranteed to feel like you've been transported to another time. No matter what you're looking for when it comes to your French canal cruise trip, we've compiled a list of the six best canals to cruise in France to give you a little taste of what you can expect.
Canal de Bourgogne
Located in the famous Burgundy region of France, known for its fine wine, the Canal du Bourgogne is one of the most popular canal cruise destinations in the country, and for all who come here, it's easy to see why.
As you cruise along this delightful canal, you'll be passing endless charming towns, villages, and countryside that will, not only take your breath away, but fill you with a sense of calm and peace.
You'll find plenty of opportunities for exploring along the way since our canal cruise tours include excursions that are carefully tailored and designed to ensure you get a true taste of French culture and history.
Canal du Nivernais
Cruising along peaceful towns, villages, and vineyards, as well as stunning hills and valleys on its route through the western Burgundy region, you'll soon understand why this is, today, one of the most popular French canal cruising routes in the country.
The Canal du Nivernais Initially built to help the transportation of firewood from Morvan forests to Paris, today it has gained a reputation for its peace and tranquility.
So, if you're looking for a relaxing break with a difference, then a luxury barge cruise along this captivating French canal could be just the thing.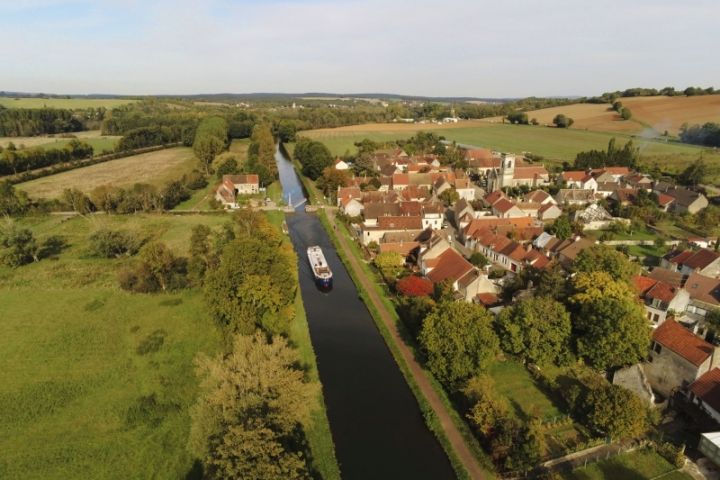 Canal du Midi
The Canal du Midi runs from the Mediterranean Sea to the River Garonne and then north to the Atlantic Ocean, which today still serves as the perfect waterway connecting to the two French coasts.
A highly popular route with tourists looking to get the most out of their trip to France, The canal du Midi offers great scenery and makes an excellent getaway spot for those who want a break from the hustle and bustle of their daily lives.
Passing through picturesque towns and villages as we cruise this charming French canal, you'll be captivated and excited by all that there is to see and do.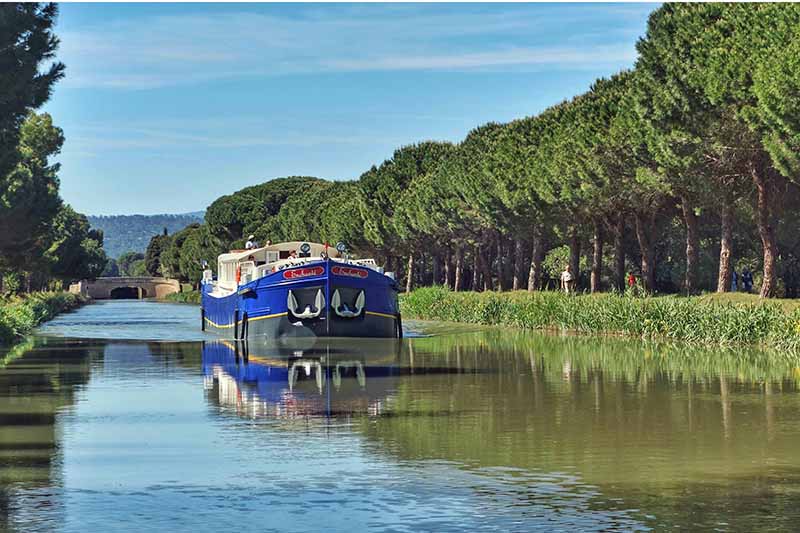 Canal de Garonne
This 120 mile Canal de Garonne is loved for its tranquil and scenic route that starts from its junction at the Canal du Midi in Toulouse and then continues along to the opening of the Garonne river.
As you cruise along this route, you'll find the picturesque scenery something to remember – from tree-lined paths and other canal cruises and barges passing by, it's easy to feel like you're transported to a time gone by.
This canal also passes through the Agen region of France, which is famous for its fruit growing. So, you'll find things like berries, pears, plums, apples, and peaches all growing here in healthy abundance.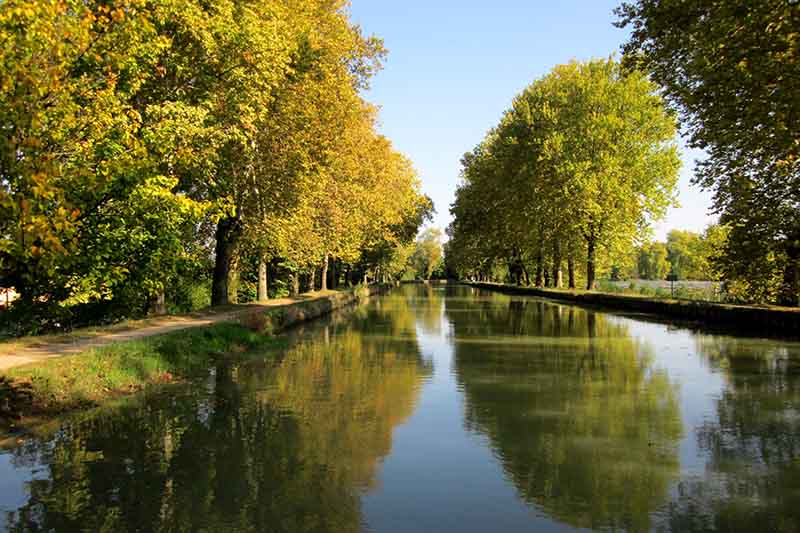 Canal de Briare
A picturesque canal that is sure to capture the hearts and minds of anyone who's passionate about history and culture. The Canal de Briare is rich in both, this is one of the oldest canals in France and dates back to 1642 when it was completed.
Passing through here on a luxury hotel barge or canal cruise, you'll be delighted with sights of charming French villages and hamlets, many of which pre-date the canal itself.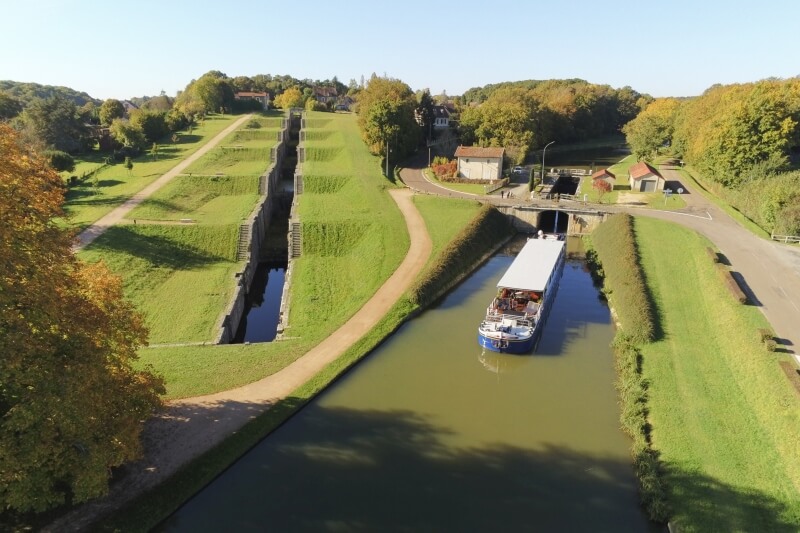 Canal de la Marne au Rhin
For those who appreciate fine French wine along with soaking up the rich and diverse history, a canal cruise along the Canal de la Marne au Rhin is a must.
This canal connects two rivers: River Marne in Vitry-le-François and the River Rhine in Strasbourg and allows for transportation between eastern France and Paris.
Passing through this delightful canal onboard a luxury hotel barge, you'll be met with sleepy villages that rival a fairytale thanks to their lush greenery and contrasting half-timber houses with box windows.
You'll have the chance to stop off at some of the famous vineyards on this route where wines such as Riesling and other Alsatian wines can be sampled.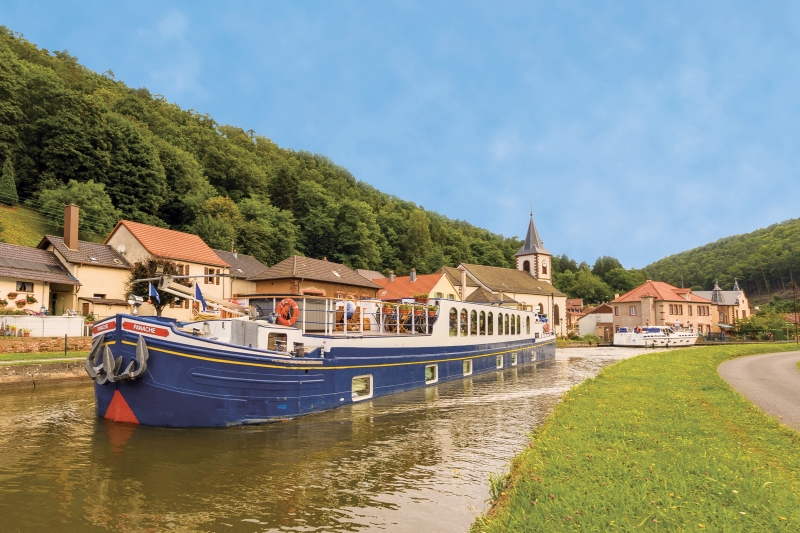 Your Luxury French Canal Cruise
With so many incredible French canals to choose from, it can be hard to pick just one for your luxury hotel barge trip, but rest assured, that when you cruise with us, we try to include as much as we can on each one so that you're not missing out on any aspect of French history, culture or cuisine – without overwhelming you, of course.
Depending on the French canal cruise route you choose, we have multiple luxury hotel barges on offer – each offering an array of amenities, guaranteed comfort, and memories that will last a lifetime.
Some of the things our guests love most about our luxury canal cruises are the charming, carefully chosen decor, the comfortable bedrooms with en-suite facilities, the delicious and fresh meals prepared by our very own private chef, and the exciting tours and excursions that we include with something for everyone to enjoy.
Ready to Experience it for Yourself?
If you're looking for the holiday of a lifetime, then we'd love to help you plan it. Get in touch with our friendly, experienced cruise experts who will be happy to walk you through the different options we have available and tailor your perfect trip aboard a luxury French canal cruise.