The Scottish Highlands are a place of magic and mystery, where green peaks loom over lonely valleys and dense fog lingers over the lochs. When you visit this untamed place, you understand how the brooding, restless landscape lends itself well to the backdrops of many a drama on the silver screen. A cruise aboard a hotel barge on waterways that cut through this endlessly inspiring land is the perfect way to experience Scotland's dramatic scenery.
Eilean Donan Castle
No place demonstrates the theatricality of the Scottish Highlands better than Eilean Donan Castle. Perched on a tiny island at the intersection of Loch Duich, Loch Long, and Loch Alsh, Eilean Donan looks like a castle straight out of a fairy tale. And in some ways, it is! The castle so frequently appears in photographs, films, and television series, that it seems almost designed for drama and fantasy.
There has been a castle on the island of Eilean Donan for at least 800 years. For centuries, it was a stronghold of the Clan Mackenzie and their allies, the Clan Macrae. But in the 18th century, the castle was destroyed by government ships as retribution for the Mackenzies' involvement in the Jacobite rebellions. From the ruins rose the structure you see today, which was reconstructed in the 20th century by Lieutenant-Colonel John Macrae-Gilstrap.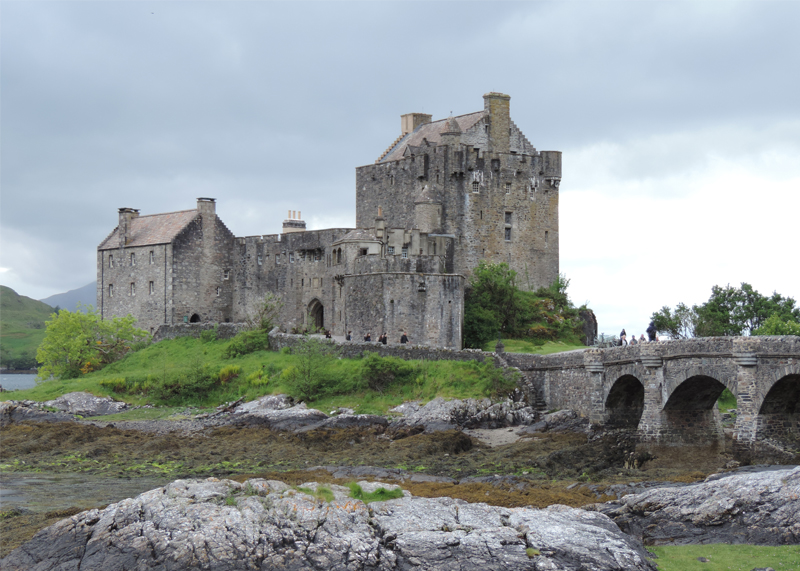 The castle cuts a dramatic silhouette against the cloudy Highland sky. As you approach, the stony structure appears to rise right out of the loch. The island is connected to the mainland by an arched stone bridge which is very popular as a wedding destination! Inside, much of the castle is open for visitors to explore. Visit the imposing Great Hall with its wood-beamed ceiling, or one of the surprisingly cosy bedrooms upstairs.
Starring in Highlander and The World is Not Enough
The castle might look familiar to some film buffs. That's because several popular films have been shot here, including Highlander and the James Bond movie The World is Not Enough. In the former, Eilean Donan provided the perfect rugged backdrop for the opening scenes, set in the 16th century Scottish Highlands. In the latter, the castle served as the Scottish headquarters of MI6, though it was outfitted with satellite dishes and aerials on the rooftop to make it look somewhat more appropriate!
Over the years, many people have come to Eilean Donan to experience the drama of this stirring landscape and picturesque castle. There's no doubt this place holds a special power over the imagination. European Waterways offers 6-night cruises that include a visit to Eilean Donan, so you can experience the magic for yourself!