Dining Delights aboard La Belle Epoque
Chef Arnis from La Belle Epoque entices us with his signature recipes…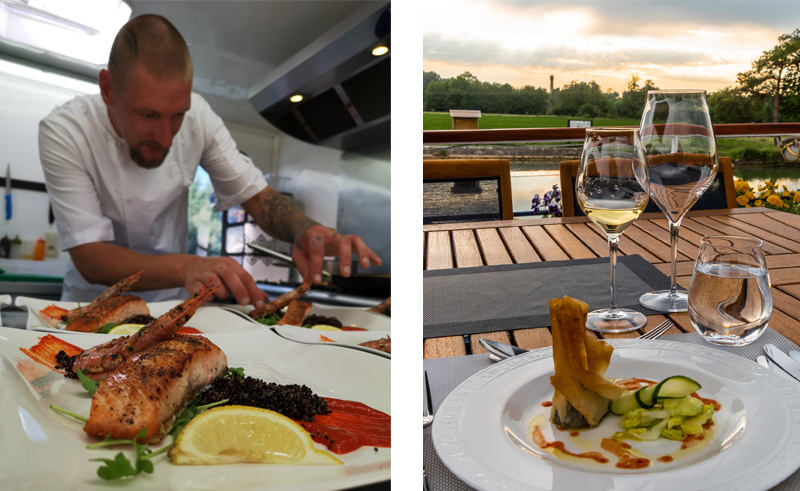 Food and wine is a huge part of our guest experience on board, and we take pride in our staff of world-class chefs whose creations take you on a different culinary journey each day. La Belle Epoque's Latvian-born master chef, Arnis Maskevics, shares his three signature recipes – a zingy balsamic vinaigrette, a hot goat's cheese salad, and a comforting Beef Bourguignon.
Balsamic Vinaigrette
You Will Need:
 2 tbsp honey
1 tbsp Dijon mustard
1 tsp fine sea salt
½ tsp fine sea salt
½ tsp freshly crushed black pepper
1 large garlic clove, minced
¼ cup balsamic vinegar
¾ cup extra virgin olive oil
Method
In a small mixing bowl, whisk together the honey, balsamic, mustard, salt, pepper and garlic.
Add the oil and whisk thoroughly to combine. Continue whisking until the dressing is fully emulsified.
Store in a jar with a lid and refrigerate.
Shake well before serving.
Hot Goat's Cheese Salad
For the Marinade:
290ml extra virgin olive oil
100ml balsamic vinegar
2tbsp brown sugar
Pinch of salt
Pinch of pepper
For the Salad: 
Freshly ground black pepper
Olive oil for drizzling
200g goat's cheese log, cut into 1cm thick slices
Extra virgin olive oil
Fresh basil
 Garden leaves of your choice
 100g cherry tomatoes
 100g sundried tomatoes
Splash of sundried tomato oil for seasoning
Method
Preheat the oven to 170C/325F/Gas 3. Preheat the grill to its highest setting
 For the marinade, place all of the marinade ingredients into a large bowl and mix together well
 Place the goats' cheese rounds onto a baking sheet and place under a moderate grill. Grill for 2-3 minutes, until the cheese has melted and begun to brown
To serve, place the salad leaves, cherry tomatoes and sundried tomatoes into a large serving bowl. Top with the grilled goat's cheese. Drizzle with a little of the marinade and sundried tomato oil for extra flavour.
Beef Bourguignon
You Will Need:
675g lean beef steak, cut into 5cm cubes
45ml rapeseed or olive oil
1 medium onion, peeled and chopped
200g baby carrots, tops removed
2 large garlic cloves, peeled and finely chopped or crushed
750ml/1 bottle good quality Burgundy red wine
200g bacon lardons or pancetta cubes
300g shallots or baby onions, peeled and left whole
100g button mushrooms, halved
Salt and freshly milled black pepper
2 tsp sugar
Handful of freshly chopped flat-leaf parsley, to garnish
Method
Heat half the oil in a 1.7L ovenproof casserole dish with a lid and cook the beef in batches for 4-5 minutes until browned.  Remove and set aside.
Cook the onions, carrots and garlic for 3-4 minutes.
Bring to the boil, reduce the heat and simmer uncovered for 2 minutes.
Return the meat to the pot and sprinkle over the onions.
Add the wine. Season and cook in a preheated oven at Gas mark 2, 150°C/ 300°F, or on the hob under a very low flame for 2-2½ hours.
45 minutes before the end of the cooking time, heat the remaining oil in a large non-stick frying pan and cook the bacon lardons and shallots or baby onions for 4-5 minutes until soft, and lightly browned.
Add to the casserole pot with the mushrooms, season, stir gently, then cover and cook for the remaining cooking time.
Garnish with parsley and serve with boiled new potatoes, or mash and seasonal vegetables.
Dining on La Belle Epoque
For your chance to try the exquisite menu on La Belle Epoque as it traverses through Northern Burgundy, request a brochure or contact our team today!