Crispy Venetian Squid with Raddichio di Treviso
Chef Andrea from La Bella Vita shares his recipe for a moreish crispy squid with crunchy Italian lettuce…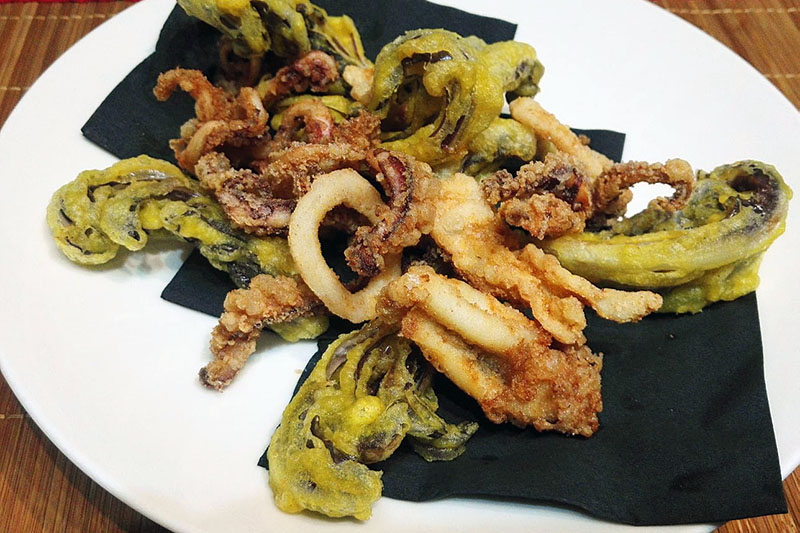 This delicious dish, made with fresh and seasonal ingredients, is a perfect second course but you can also serve it as an extravagant aperitif paired with a glass of cold prosecco. The squid is cooked in a typical Venetian style by soaking them in cold milk for few hours and then tossing them into a mix of rice and cornflour. To accompany, radicchio leaves are fried with a crispy and spicy batter seasoned with turmeric. Simply delicious!
Ingredients
4 medium squid (approx. 150g each)
200 ml milk
200g cornflour
100g rice flour
2l sunflower oil
600g radicchio di treviso (standard ridicchio is fine)
1 glass of beer
150g wheatflour
10g turmeric
Method
To prepare, clean the squid by washing them in cold water
Cut the bodies into bitesize pieces
Cut the heads into halves, then marinade in milk before refrigerating for at least 2 hours
Carefully mix the cornflour with the rice flour in a bowl
Cut the radicchio into 4 wedges vertically, before washing and draining them
For the batter: mix the wheatflour, riceflour and turmeric powder in a bowl Slowly add the beer until it becomes smooth a smooth paste
Cover the bowl with cling film and keep it in the fridge. It's very important to fry the food when it is cold to have a perfect, crispy and delicious finish
To cook: heat sunflower oil in a deep pan
Dunk the radicchio wedges into the cold batter, drain the excess and then carefully place in the oil to deep fry
Cook until it becomes crispy and brown, then place on a plate on top of kitchen paper
Drain the squids from the milk , then repeat the same process – cooking for 2-3 minutes Serve radicchio with squids and a big pinch of salt on top…  buon appetito!