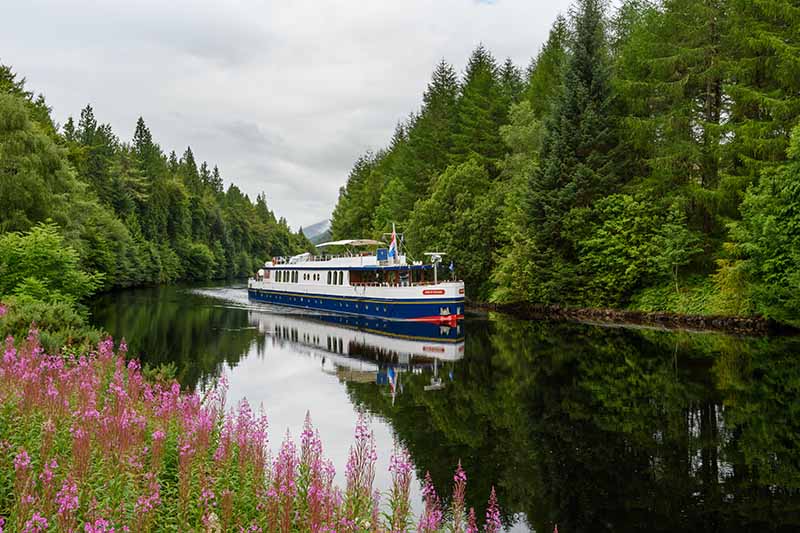 Patricia Cleveland-Peck discovers the beauty of Scotland's Caledonian Canal
In the Scottish National paper, The Herald, Journalist, Patricia Cleveland-Peck shares her experiences from a week aboard the 12-passenger Spirit of Scotland, cruising the Caledonian Canal in the Scottish Highlands…
This 6-night European Waterways cruise down the Caledonian Canal is proving the perfect antidote and I am quickly rediscovering the pleasure of meeting people and seeing new places.
Highlights of the cruise aboard the Spirit of Scotland included:
Tour of the Glen Ord whisky distillery with a private tasting
Majestic Falconry Display on the banks of Loch Ness
Tour of Cawdor Castle and gardens, home of Shakespeare's Scottish Play
Visit Eilean Donan and Urquhart castles
Wonderful river, canal and loch cruising & excellent opportunities for walking
Visit Glencoe, scene of treachery between the Campbell and MacDonald clans
There are 29 locks along the canal's 60-mile length, half of which are multiple 'staircases.' Later, at Fort Augustus, a major hub on the canal, we climb though 5 lochs to reach the top, which takes about one and a half hours.
Caledonian Canal Cruises aboard the Spirit of Scotland
Patricia Cleveland-Peck cruised aboard the 12-passenger Spirit of Scotland in August, 2021.
For her full itinerary, click here >
Browse our Scotland barge cruises here >
To read Patricia's full article in The Herald magazine, click on the 'Read More' button below.