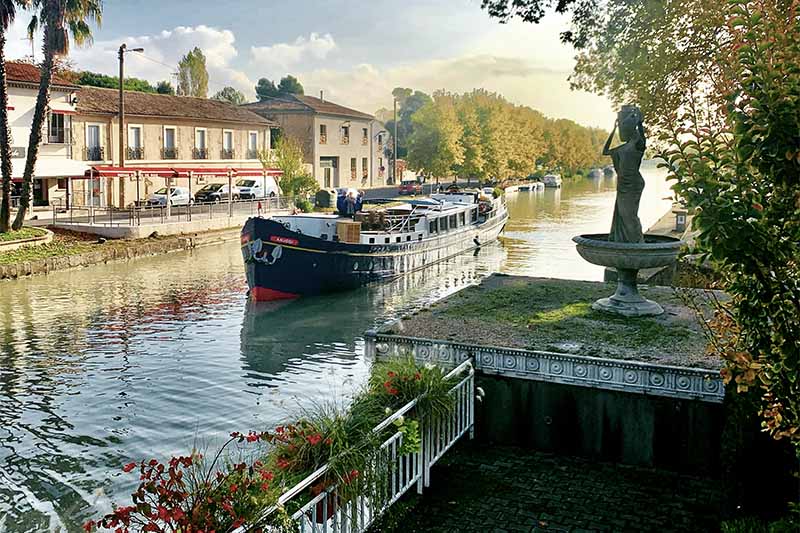 Cruising the Canal du Midi in October by Judi Cohen
For QuirkyCruise.Com, travel expert and writer, Jodi Cohen shares her memories from a week aboard luxury hotel barge, Anjodi, as she cruises the Canal du Midi in Southern France…
Built in Groningen, Netherlands as a cargo barge to transport grain between Amsterdam and Paris, she was named Anjodi in 1963 after the three children of the original owner Tiemen de Weerd — Andries, Johan and Diana.
Highlights of the cruise aboard Anjodi included:
Private wine tasting at the beautiful Château Pech-Celeyran
Cruise through the world's oldest canal tunnel at Malpas
See the spectacular hilltop village of Minerve
View the Pyrenees mountains across the vineyards and discover Cathar history
Tour Carcassonne – the most complete medieval fortified city in existence
Excellent towpath for walking and cycling. "Biking Plus" option available
It felt quite old-world on the inside with the African woods, ornate wood panelling and polished brass accents.
Canal du Midi cruises aboard Anjodi
Judi Cohen cruised aboard the First Class 8-passenger Anjodi in October, 2021.
For her full itinerary, click here >
Browse our Canal du Midi barge cruises here >
To read Judi's article on www.quirkycruise.com, click on the 'Read More' button below.