Wine Appreciation Cruise – Bordeaux
ITINERARY*
Sunday, Day 1 Boé
Guests are met in Bordeaux** and transferred by private chauffeured minibus to Rosa. Following a champagne and canapés welcome, there is time for a stroll before returning for your first dinner on board. A knowledgeable sommelier also visits the barge to give the first of several talks during the cruise on the vineyards of Bordeaux and ensures that everyone has mastered their wine-tasting technique!
Monday, Day 2 Boé to Serignac-sur-Garonne
After breakfast, our first cruise is to Serignac-sur-Garonne, crossing the Plan Canal d'Agen, one of the longest aqueducts in France which spans the River Garonne. After lunch on board, we visit the fascinating Cork Museum in Mézin, a small town at the centre of an area that boasted over 50 cork factories back in the 1800's. There, we learn about the history of cork-making and see an exhibition of tools and machines used by workers in the 19th and 20th centuries. Later, we see the medieval riverside village of Lavardac and some of the nearby cork trees, then stop at the Lapeyrade Estate for a cellar tasting of Armagnac, the oldest alcohol in France. Dinner on board.
Tuesday, Day 3 Serignac-sur-Garonne to Buzet-sur-Baise
This morning, we cruise further along the canal, where you will be able to spot some of Gascony's famous pigeon-houses en route, to arrive at our mooring at Buzet-sur-Baise, a town at the heart of the Garonne terroir that produces some excellent wines. After lunch, we visit the traditional cooperage of St. Martin, where we discover the secrets of making the barrels that enhance the great wines of Bordeaux. Before returning to the barge, we also visit the Buzet wine co-operative, Les Vignerons de Buzet, for a tour of the cellars and tasting. Dinner ashore this evening at a charming waterside restaurant, Le Moulin des Saveurs.
Wednesday, Day 4 Buzet-sur-Baise to Le Mas d'Agenais
This morning, we enjoy a relaxing afternoon cruise past Damazan, a fortified village with pastel-coloured houses to our mooring at the lovely little village of Le Mas d'Agenais. In the afternoon, we visit the 14th century Château de Duras, an architectural wonder, which has been both a fortress and a stately home over its 900-year history. We wander through its 35 rooms and museum, then take a short drive to the nearby "Maison des Vins", with its exhibition telling the story of the wine-making that has taken place in the area since the 12th century. Dinner on board.
Thursday, Day 5 Le Mas d'Agenais to Meilhan-sur-Garonne
Morning cruise to Meilhan-sur-Garonne, the perfect time to walk or cycle the towpath through stunning countryside with views over the valley of the Garonne. After lunch on board, we visit Château de Malle, an exquisite residence set in Italian-style gardens with vineyards situated in some of the most sought after wine-growing land in the region. Since being built in the 17th century, it has remained in the hands of the same family and produces its renowned sweet wine, Sauternes "Grand Cru Classe", a recognition awarded back in 1855, as well as red and white Graves wines. After a tour, we enjoy a private tasting of these delicious wines. Dinner on board.
Friday, Day 6 Meilhan-sur-Garonne to Castet-en-Dorthe
Today, our final cruise is to Castet-en-Dorthe, following the nearby River Garonne. In the afternoon, we visit the medieval town of Saint Emilion, a UNESCO World Heritage site and centre of the most famous of the Bordeaux appellations. Later, we stop at Château Beau-Sejour-Becot, a long-established, family-run producer of some highly-praised premier and grand cru Saint Emilion wines, where we are given a private tour and, of course, enjoy a tasting. Captain's Farewell Dinner on board.
Saturday, Day 7 Castet-en-Dorthe
After breakfast, guests are transferred by private chauffeured minibus to their choice of location in Bordeaux**.
*This is a sample itinerary and is subject to change. On certain weeks the cruise will be in the reverse direction.
**Alternative locations are available for Private Charter bookings
CONTACT US ABOUT THIS CRUISE
Cruise Route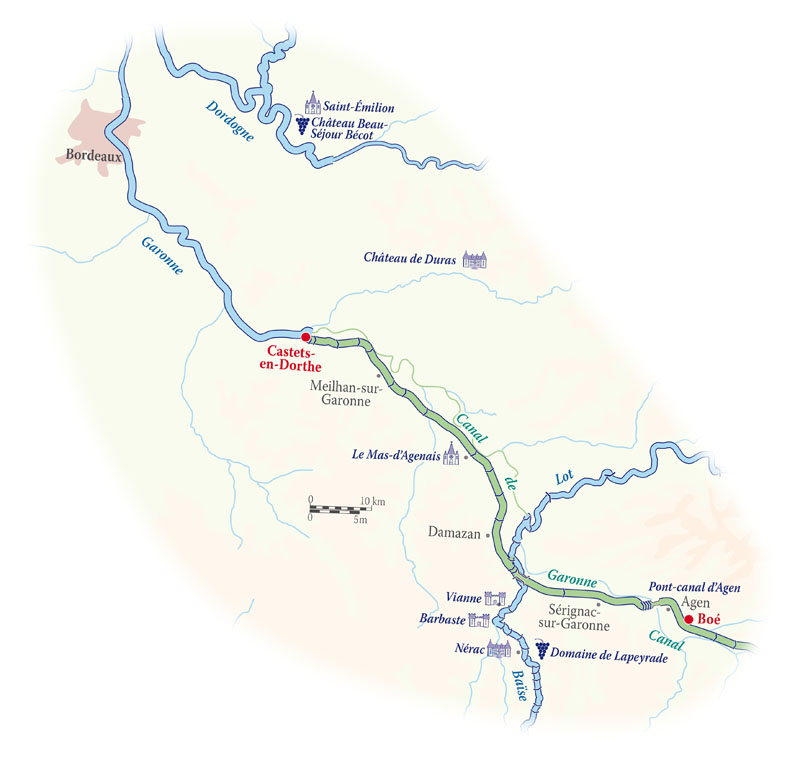 Photo Gallery
Rosa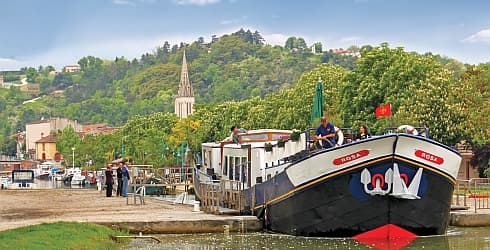 Rosa is a first class, 8 passenger hotel barge that cruises the Gascony and Bordeaux regions of southwest France
Related Articles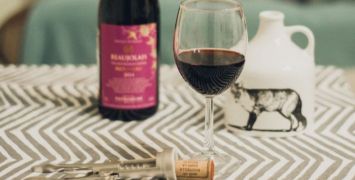 Do you have plans for the third Thursday in November? Get to France – le Beaujolais nouveau est arrivé! Read More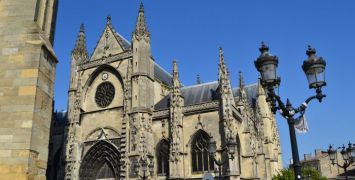 Bordeaux - The very essence of elegance, exquisite food, life affirming art and architecture... need we even mention the wine? Read More