Classic Cruise – Bordeaux
ITINERARY*
Sunday, Day 1 Boé
Guests are met in Bordeaux** and transferred by private chauffeured minibus to Rosa. Following a champagne welcome, there is time for a stroll before returning for your first dinner on board.
Monday, Day 2 Boé to Serignac-sur-Garonne
Morning cruise to Serignac-sur-Garonne, where we cross the Plan Canal d'Agen, one of the longest aqueducts in France which spans the River Garonne. After lunch we visit the medieval town of Nerac and tread in the footsteps of King of France Henry IV and Queen Margot. The château was built in the 15th century, but much was destroyed during the French Revolution and today only the impressive north wing remains. Finally, we stop at the Lapeyrade Estate for a cellar tasting of Armagnac, the oldest alcohol in France. Dinner on board.
Tuesday, Day 3 Serignac-sur-Garonne to Buzet-sur-Baise
This morning, we depart early to enjoy breakfast at the colourful market of Aiguillon and then cruise to our mooring at Buzet-sur-Baise, a pretty fortified village with pastel-coloured houses. Lunch on board is followed by an informative guided tour of the sustainable wine co-operative of Buzet, with a tasting of course! Next we visit the cork museum at Mezin to learn about the history of cork-making, before heading to the 13th century bastide village of Vianne. In the evening we go to Barbaste with its fortified mill, protected by four square towers, and the nearby 12th century bridge with its 12 curved arches. Dinner tonight is a gourmet affair at the "Auberge du Goujon qui frétille", a delightful local restaurant with a highly inventive menu.
Wednesday, Day 4 Buzet-sur-Baise to Lagruère
We start the day with a relaxing cruise to the lovely little village of Lagruère, with time to walk or cycle the towpath through stunning countryside. Following lunch on board we cruise along the Garonne river aboard a traditional flat-bottomed boat, after which we visit the beautiful village of Le Mas d'Agenais, its 11th century church playing host to an ornate Romanesque doorway and an original masterpiece by Rembrandt. After this we take a short drive to an artisanal dairy farm at Ramier where we experience the entire cheese making process, culminating in a delicious tasting. Dinner, if the weather permits, is a gourmet barbecue beside the barge, overlooking the River Garonne.
Thursday, Day 5 Lagruère to Meilhan-sur-Garonne
Our morning cruise takes us to the village of Meilhan-sur-Garonne, with an expansive view over the valley of the Garonne. In the afternoon, we visit the 14th century Château de Duras, an architectural wonder, which has been both a fortress and a stately home over its 900-year history. We wander through its 35 rooms and museum before returning to the hotel barge. Dinner on board.
Friday, Day 6 Meilhan-sur-Garonne to Castet-en-Dorthe
Today, our final cruise is to Castet-en-Dorthe, where the canal ends and drops into the River Garonne. After lunch on board we visit the medieval town of Saint Emilion, a UNESCO World Heritage site and centre of the most famous of the Bordeaux appellations. Later, we stop at Château Beau-Sejour-Becot, producer of premier and grand crus wines, where we discover the secrets of the vine and, of course, enjoy a tasting. Captain's Farewell Dinner on board.
Saturday, Day 7 Castet-en-Dorthe
After breakfast, guests are transferred by private chauffeured minibus to their choice of location in Bordeaux**.
This is a sample itinerary and is subject to change. On alternate weeks the cruise will be in the reverse direction.
**other locations available for private Charter bookings
CONTACT US ABOUT THIS CRUISE
Cruise Route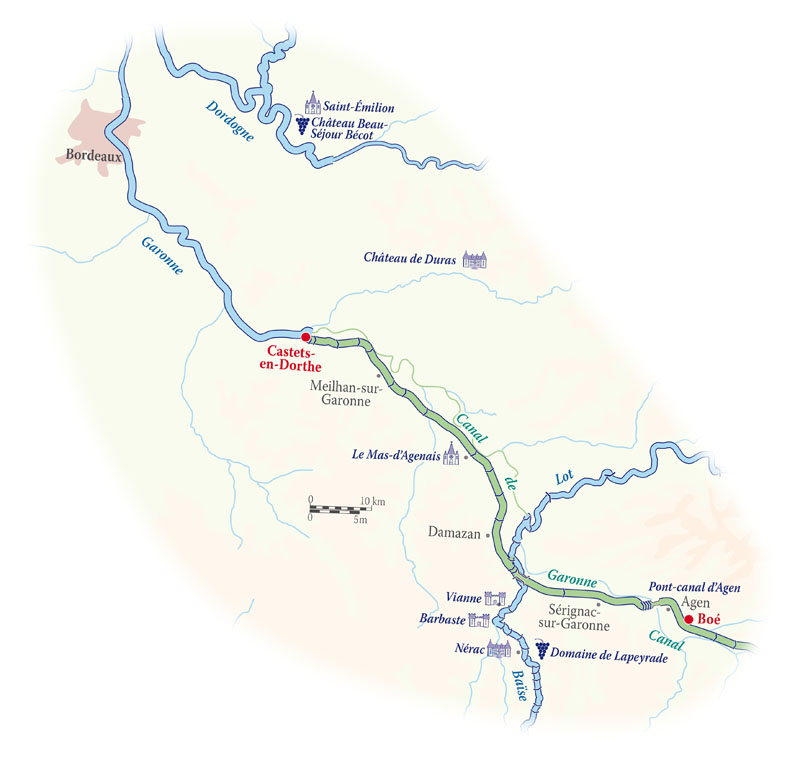 Photo Gallery
Rosa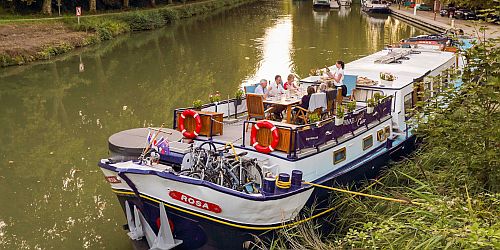 Rosa is a first class, 8 passenger hotel barge that cruises the Gascony and Bordeaux regions of southwest France
Related Articles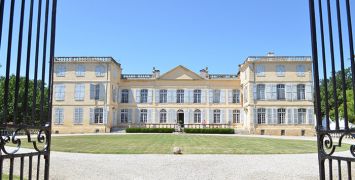 In Part 2 of our Best Insider Experiences, we show you where we take you off the beaten track on barge trips in France and Scotland Read More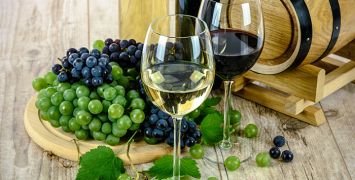 Gascony has some of the most delicious gastronomic traditions in France. Our cruises introduce you to the region's food and wine in the most wonderful way Read More