Classic Cruise – Eastern Lorraine
ITINERARY*
Sunday, Day 1 Lutzelbourg
Guests are met in Strasbourg and transferred by private chauffeured minibus to Panache for a Champagne welcome and the first opportunity to meet your crew. Dinner on board.
Monday, Day 2 Lutzelbourg to Niderviller
For early risers, there is perhaps an optional visit to a local bakery to watch skilled patissiers preparing their delicious creations. Then after breakfast, we embark on our first cruise along the canal. We visit the Lehrer Crystal glassworks en route, then ascend the unique Arzviller boat elevator that carries Panache 450 feet up the mountainside in minutes, before enjoying a candlelit cruise through the two Arzviller tunnels to our mooring at Niderviller. After lunch, we take a scenic drive into the rolling Vosges hills on the Route des Grands Vins, where the finest wines of Alsace are produced, and enjoy a private tasting of Gewürztraminer, Pinot Noir and Riesling wines at a long-established winemaker, such as Domaine Pfister. Dinner on board.
Tuesday, Day 3 Niderviller to Rechicourt
This morning we visit the mountaintop village of La Petite Pierre with its medieval castle, then tour the outstanding René Lalique collection and see over 500 exceptional examples of Art Nouveau and Art Deco glassware. Nearby Wingen-sur-Moder is also the World War II battleground where American infantry fought with distinction. After returning to the barge, we embark on our relaxing afternoon cruise to our mooring at Rechicourt. Dinner on board.
Wednesday, Day 4 Rechicourt to Lagarde
This morning, our tour is to the town of Sarrebourg, including visits to the 13th century chapel containing Marc Chagall's remarkable stained-glass windows and the impressive museum of Roman and Medieval artefacts. In the afternoon we pass through the impressive 16 metre high Réchicourt Lock. As Panache negotiates the lock there should be time to visit the 6-lock ladder alongside that it replaced. We then cruise on through delightful countryside to moor at Lagarde, a typical Lorraine village set in the Lorraine Regional Natural Park. Dinner on board.
Thursday, Day 5 Lagarde to Einville-au-Jard
This morning, we cruise to the canalside village of Einville-au-Jard, where we moor for lunch on board. In the afternoon, there is a unique and very special visit – a private tour, given by the Countess-owner, of Château de Fleville. The Countess's family has lived there since 1812.  With its 1320 keep and the main Renaissance structure being added in the 16th century, including an impressive balcony, it looks very much like a château that would not be out of place in the Loire region. Dinner ashore this evening at a local restaurant.
Friday, Day 6 Einville-au-Gard to Nancy
After breakfast, we cruise further along the meandering canal to Dombasle-sur-Meurthe. After lunch, we enjoy a tour of Nancy, the ancient capital of Lorraine. Our tour begins at the Baroque Place Stanislas, considered one of the grandest squares in all of France, with its ornate gold and wrought iron gates. We can also explore the indoor market, or some of the delightful gardens, such as the Jean-Marie Pelt Botanical Garden. We return to the barge at its mooring in the heart of Nancy. Captain's Farewell Dinner on board.
Saturday, Day 7 Nancy
After breakfast, guests are transferred by private chauffeured minibus to their choice of location in Strasbourg.
This is a sample itinerary and is subject to change.
CONTACT US ABOUT THIS CRUISE
Cruise Route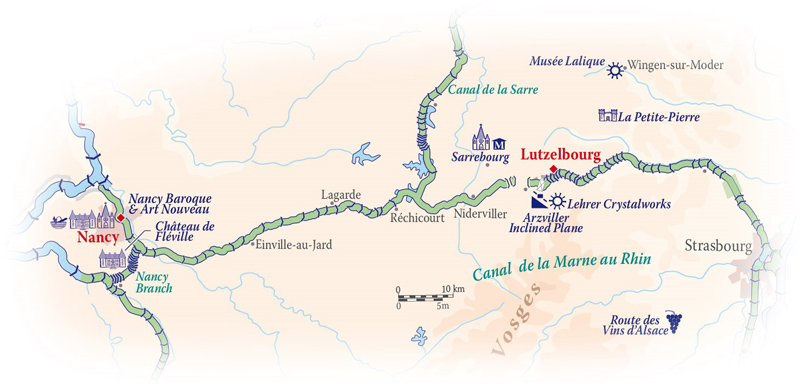 Photo Gallery
Panache
Panache is a deluxe, 12 passenger hotel barge that cruises in Holland, Belgium, Picardy, Paris, Champagne and Alsace & Lorraine
Related Articles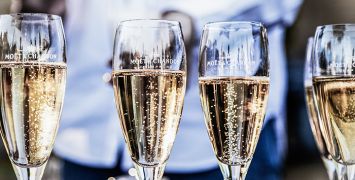 Consumed at social gatherings all over the globe, it's used for toasts at weddings and seeing in the New Year. But the real question is, do you know your champagne... Read More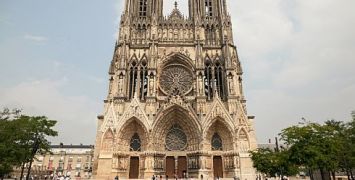 Reims is famed for its cathedral, champagne, and stunning architecture – here's the lowdown of what to see and do so you don't miss out. Read More