Golf Cruise – Loire Valley
ITINERARY*
Sunday, Day 1 Tours to Moulin de Nitray
Guests are met near Tours** and transferred by private chauffeured minibus to hotel barge Nymphea where the crew and a Champagne Welcome await you at our mooring opposite the 17th century Moulin de Nitray. Dinner on board.
Monday, Day 2 Moulin de Nitray to Larcay
A morning cruise through two locks takes us to the quaint town of Larcay where we moor under the weeping willows for lunch. Afternoon spent at Golf de Touraineat the Chateau de la Touche, Ballan Miré. Return to Nymphea for dinner on board.
(18 holes Par 71 – length 5673 m).
Tuesday, Day 3 Larcay to Vallet
After a morning cruise past no less than six private chateaux, we tie up opposite the hamlet of Vallet, a cluster of classic Tourangeau architecture grouped around its 18th century mill. From there we leave for Tours Ardrée Golf Club. Laid out in 350 acres of park and woodland, the fairways thread their way through the trees and water hazards, leading to large but well protected greens. We take dinner tonight in one of the local restaurants specializing in regional cooking. (18 holes, par 72, 5734 metres).
Wednesday, Day 4 Vallet to Chissay-en-Touraine
Whilst cruising in the morning we may pull in to the tiny landing stage next to Domaine de Fontenay.  A two minute walk brings us to their courtyard where we can taste their range of Touraine wines as an aperitif before lunch. In the afternoon we play the golf on the estate of the Chateau de Cheverny. Winding round the Rousseliere Lake, home to mallard ducks, swans and grey herons. Before returning to the barge we can visit the Chateau if time permits. An evening cruise takes us under the famed Chateau de Chenonceau to the village of Chisseaux. Dinner on board. (18 holes par 71, 6272 metres).
Thursday, Day 5 Chissay-en-Touraine to Montrichard
A morning cruise takes us to Montrichard.  After lunch we drive to Chateau des Bordes, which was originally conceived by industrialist Baron Marcel Bich (Bic pens fame) and businessman Mr Yoshiaki Sakurai. The two friends decided to create a world class golf course with an international dimension for their own and their guests' pleasure.  Robert von Hagge, Texan architect of more than 200 courses, was employed to bring American expertise to the project.  With no expense spared and free from development constraints, von Hagge created a masterpiece of extraordinary beauty exploiting the abundance of the Sologne's lakes to present water hazards at 12 of its 18 holes as it winds its way through the forest. The golf here is in the same league as Valderama. In fact, along with the former Ryder Cup venue, Les Bordes is one of only two courses in Continental Europe to enjoy the highest rating in the Peugot Golf Guide to 1000 European courses.  Dinner on board.  (18 holes, par 72, 7062 yards).
Friday, Day 6 Montrichard to Moulin de Nitray
There is much to explore at the 12th Century Chateau of Foulques Nerra overlooking the mediaeval town square.  Before lunch, we visit one of the more unusual dwellings in the Loire Valley, La Magnaneraie. The Coquillat family has grown up in this hillside troglodyte habitation, which has been in turn wine cellar, quarry for the tuffeau stone, and lastly a silkworm nursery. After lunch, Nymphea sets off downstream again, for another passage under Chenonceau with a chance to visit the castle, and arrives at the hamlet of Nitray. Enjoy a pre-Captain's dinner aperitif grown in Nitray and Captain's Farewell Dinner on board
Saturday, Day 7 Moulin de Nitray to Tours
After breakfast, guests are transferred by private minibus to the drop-off point near Tours**.
*This is a sample itinerary and is subject to change.
** Alternative locations available for Charter bookings
On alternate weeks the cruise is in the reverse direction.
Golf cruises include pre-booked and paid tee times and transfers to and from the golf clubs.
Hire of clubs, caddy or buggy are not included.
CONTACT US ABOUT THIS CRUISE
Cruise Route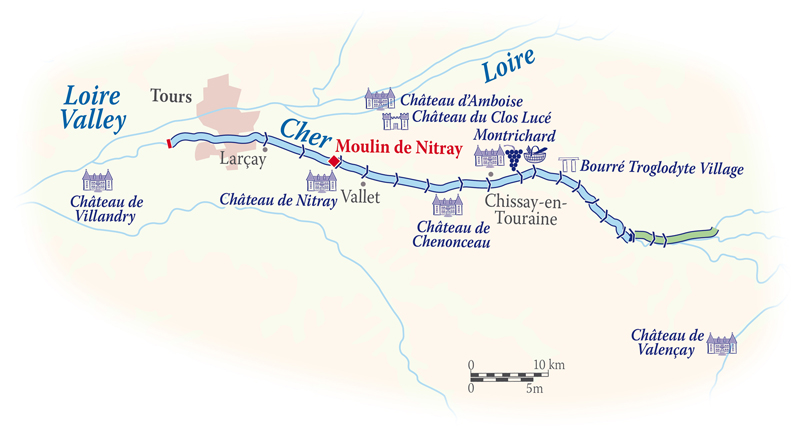 Photo Gallery
Nymphea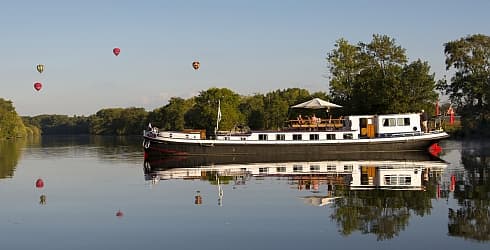 Nymphea is a first class, 6 passenger hotel barge that cruises the River Cher in the heart of the Loire Valley
Related Articles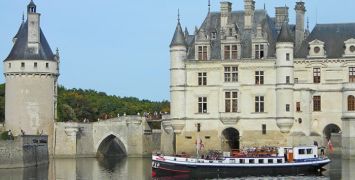 Cruise beneath the five-arched bridge of the Château de Chenonceau and experience the splendour of its turreted façade when you cruise the Loire Valley aboard Nymphea Read More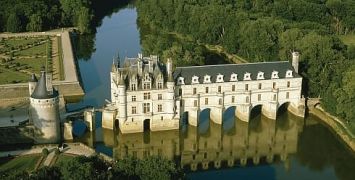 To make it easier for you to choose which Loire Valley châteaux you stop at, we've put together a list of our top 5, so you don't miss the best... Read More