Royal Cruise – England
ITINERARY*
Sunday, Day 1 Hampton Court Palace
Guests are met at The Stafford Hotel in Central London** for afternoon English Cream Tea, before being transferred to Magna Carta. Champagne reception and welcome by the Captain and crew, moored outside Hampton Court, former Tudor Palace of Henry VIII, where we remain overnight. Dinner on board.
Monday, Day 2 Hampton Court Palace to Shepperton
This morning we have an exclusive tour of Hampton Court Palace. We take in Henry VIII's apartments and the Royal Chapel, feel the chill in the haunted gallery and wonder at the Tudor kitchens. Outside, the gardens are breath-taking, with The Great Vine, the oldest in the country still producing grapes and the famous maze. Lesley Ronaldson ensures your day at Britain's favourite Palace exceeds your expectations; having lived and lectured in this Royal Residence for over 20 years, Lesley has an incredibly specialist knowledge and a wide array of anecdotes and humorous tales about the infamous and famous residents of the palace. After lunch aboard we cruise through Molesey, Sunbury and Shepperton Locks to our private mooring. Optional pub visit before dinner on board.
Tuesday, Day 3 Shepperton to Windsor
After breakfast, we cruise through Runnymede to Windsor, past the Magna Carta Memorial and Magna Carta Island where in 1215, King John was forced to meet the powerful barons and seal the historic document.  Our afternoon excursion is to Windsor Castle. Built by William the Conqueror in 1066 and a royal home for over 900 years to the Royal Family, this is the largest inhabited castle in the world and is home to the college of St. George, founded in 1348. You will be met at Henry VIII's gate and taken on a unique and very special tour 'Behind the scenes of the College of St. George'. You will be invited into the Canon Polls Office for refreshments along with a talk surrounding the College, before being taken around St Georges Chapel with access to many private areas including the Vestry, Edward IV Chantry and the Albert Memorial Chapel. – This is your chance to visit somewhere truly special, as St George's Chapel was the wedding venue for the Royal Wedding of Meghan Markle & Prince Harry. You then have time to venture around the other parts of Windsor Castle including the glorious State Apartments. Dinner on board.
Wednesday, Day 4 Windsor to Cliveden
This morning begins with a private visit to the Tudor Manor House of Dorney Court, a very special home that has been owned by the Palmer family for more than 450 years & 13 generations. King Henry VIII has stayed here and the manor is regularly used for filming including "Poirot" and more recently "The Other Boleyn Girl". We are fortunate enough to enjoy a private tour of the house. Later, we cruise upstream past the fabulous waterside houses of Bray and through the spectacular Cliveden Reach to our exclusive mooring on the Cliveden estate. Dating as far back as 1666, Cliveden House has played host to every British Monarch since George I and has been home to 3 Dukes, an Earl and Frederick Prince of Wales. The gardens are simply divine and include a Parterre, Chinese water garden and topiary. We take you inside where you will be served a traditional afternoon tea and listen to the "Butlers Talk", revealing secrets and revelations of over 350 years of Cliveden history. Dinner on board.
Thursday, Day 5 Cliveden to Hurley
After breakfast we cruise further upstream to Hurley. Lunch will be served on board before a short drive to Stonor Park. Home to the Stonor family for over 850 years, Stonor Park is one of the oldest family homes still lived in today, here we will be greeted by the honourable William Stonor, who will accompany us around the house. As well as being architecturally fascinating each room contains a lifetime of experience and anecdotes. Discover art and treasures collected from across the globe and view historic maps and documents that reveal generations of service to the country. A stroll through this house is a vivid walk through history. On return we will have time to explore the ancient 11th century village of Hurley including Ye Olde Belle, reputed to be the oldest inn in the country. Dinner on board.
Friday, Day 6 Hurley to Henley-on-Thames
This morning we tour Peter Freebody's boatyard, where we will see traditional craftsman building and restoring wooden boats, just as they have done for generations. Afterwards we cruise through fabulous countryside to our final mooring situated along the famous Henley Regatta Rowing Course. An earlier lunch is followed by a drive to Oxford for a fascinating tour of Christ Church, Oxford's grandest college, founded by Cardinal Wolsey and then by King Henry VIII. The magnificent surroundings were also where Lewis Carrol wrote Alice in Wonderland. Captains' Farewell Dinner on board.
Saturday, Day 7 Henley-on-Thames
After breakfast, guests are transferred by private chauffeured minibus to central London**.
This is a sample itinerary and is subject to change. On alternate weeks the cruise is in the reverse direction.
**other locations available for private charter bookings
CONTACT US ABOUT THIS CRUISE
Cruise Route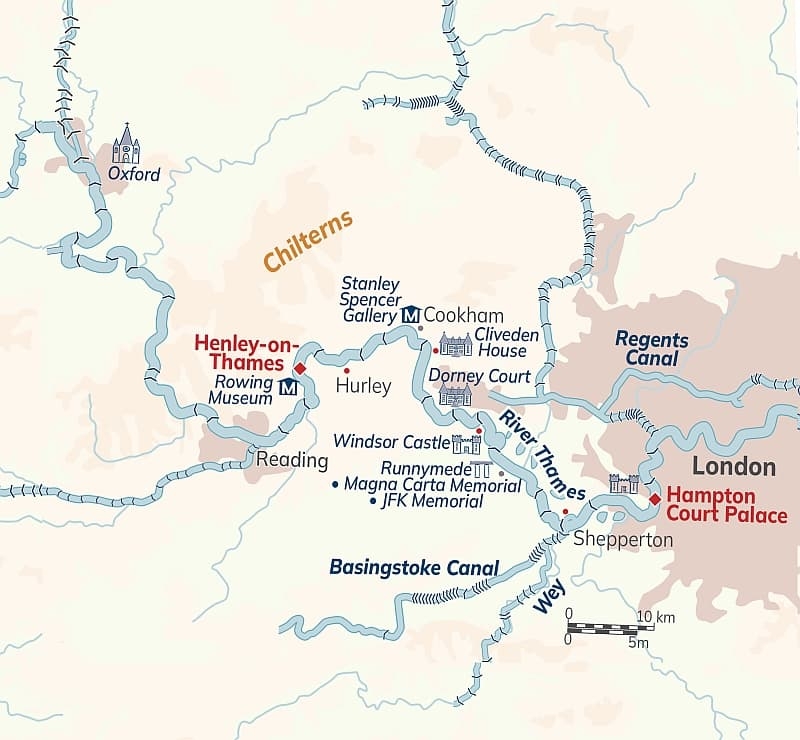 Photo Gallery
Magna Carta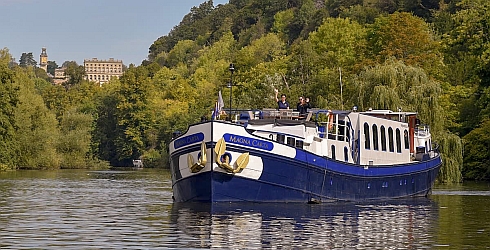 Magna Carta is a deluxe, 8 passenger hotel barge that cruises the charming upper stretches of the Royal River Thames in England