Wine Appreciation Cruise – Northern Burgundy
ITINERARY*
Sunday, Day 1 Tanlay
Guests are met at a location of their choice in central Paris** and transferred by private chauffeured minibus to La Belle Epoque. A champagne reception with canapes welcomes you on board and the opportunity to meet the captain and crew. Time to settle into your cabin before your wine guide arrives to introduce himself and outline the week's itinerary. Then enjoy your first dinner aboard and an introduction to Burgundy's excellent cuisine.
Monday, Day 2 Tanlay to Lezinnes
Wake to the aromas of ground coffee and French patisseries, enjoy a leisurely breakfast before your wine guide collects you for your visit to the Grand Cru vineyards of Chablis where you get a wonderful view of these world famous Chardonnay vineyards. A brief history of the region is given then on to a great local wine producer to taste a selection of wines including Premier Cru and Grand Cru's. Return to the barge and cruise this afternoon to Lezinnes. Dinner on board.
Tuesday, Day 3 Lezinnes to Ancy le Franc
After breakfast, we drive to the picturesque village of Les Riceys, the centre of the Champagne producing region of the Aude. It is the only village in this Champagne region to boast 3 AOC's for Champagne, Coteaux Champenois and the famous rare Rosé des Riceys. We visit an excellent local Champagne producer and enjoy a private tasting, followed by a stroll around the old town centre. We return to the barge and enjoy a gentle cruise to Ancy le Franc with plenty of opportunity to wander or cycle ahead as the vessel ascends through the locks towards the beautiful 16th century Renaissance palace and gardens of Chateau d'Ancy le Franc. Dinner on board.
Wednesday, Day 4 Ancy le Franc to Ravieres
Morning visit to the medieval Noyers sur Serein to enjoy the vegetables, cheeses, colours and delights of the local market, or wander the town ramparts in one of the most beautiful villages of France. Return to the barge for lunch and a relaxing afternoon cruise through the Burgundy countryside past grazing white Charolais cattle with opportunity to cycle or wander around the village of Ravieres before dinner on board.
Thursday, Day 5 Ravieres to Montbard
Leaving the barge shortly after breakfast we drive south with our wine guide to some of the most prestigious vineyards in the world. In the town of Nuits-St-Georges, we visit a small family wine producer to visit their cellar and taste some of their world renowned Pinot Noirs from villages, including Gevrey-Chambertin and Vosne-Romanée. After lunch in the wine capital of Beaune we return to the barge and enjoy a cruise to Montbard passing the Forges de Buffon on the banks of the tiny yet powerful Armancon River, whose power was harnessed to run the forge. Light dinner on board.
Friday, Day 6 Montbard to Venarey les Laumes
Morning cruise through woodlands and rolling fields with great towpath biking and walking opportunities past the tiny canal side villages of Nogent, Courcelles and Les Granges. This afternoon we escort you to the exquisite World Heritage Unesco site of Abbayé de Fontenay founded by St Bernard in 1118. Representing a distinctive example of early Cistercian architecture and virtually intact, Fontenay allows an exceptional glimpse of early Cistercian life and industry with its peaceful gardens and ponds and fascinating cloisters, dormitories and scriptorium. Captain's Farewell Dinner on board.
Saturday, Day 7 Venarey les Laumes
After breakfast, guests are transferred to a location of their choice in Paris*.
*Other locations available
On alternate weeks the cruise will be in the reverse direction.
This is a sample itinerary and is subject to change.
CONTACT US ABOUT THIS CRUISE
Cruise Route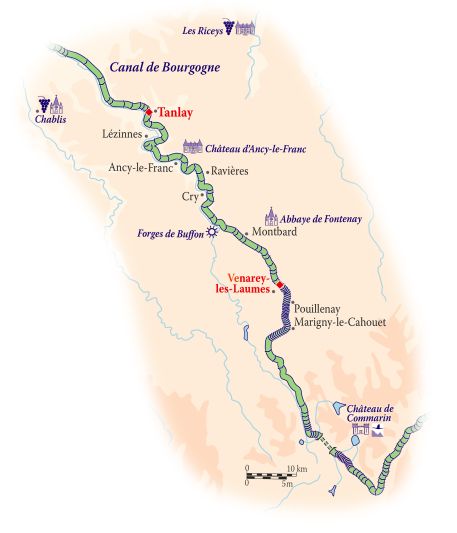 Photo Gallery
La Belle Epoque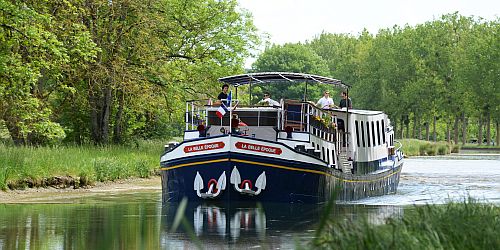 La Belle Epoque is a deluxe, 12 passenger hotel barge that explores the picturesque Burgundy Canal in Northern Burgundy
Related Articles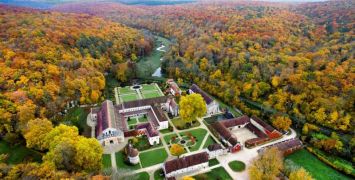 Relax onboard the luxury Barge, La Belle Epoque, and enjoy a tour of the famous Abbaye de Fontenay Read More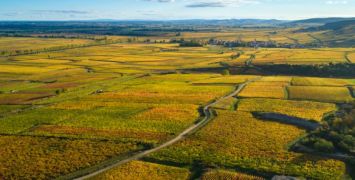 Does it get any more indulgent than sampling exceptional wines at the vineyards of Burgundy's oldest wine company? Maison Champy has been producing award-winning wines since 1720 and it's the... Read More