Golf Cruise – Southern Burgundy
ITINERARY*
Sunday, Day 1 Escommes
Guests are met at a designated meeting point in central Paris* and transferred by private chauffeured minibus to the elegant L'Impressionniste. A champagne reception welcomes you on board and the opportunity to meet the captain and crew. Enjoy a stroll into Escommes before dinner on board.
Monday, Day 2 Escommes to Vandenesse
We begin our voyage this morning from the canal summit in Escommes, 1,250 feet above sea level and cruise to Vandenesse-en-Auxois. This afternoon we transfer to Club du Pre Lamy, situated among the rolling pastures of the Auxois as they meet the forest of the Morvan. Under the calm but ever watchful eye of the château and the Collegial church of Thil, the course provides a real test for experienced players. At the same time, in a calm unhurried environment, with beautiful sights, beginners will be able to improve their skills on a course well suited to their needs. Dinner on board.  (9 Holes, Par 35, 2286m).
Tuesday, Day 3 Vandenesse to Pont d'Ouche
This morning we cruise to Pont d'Ouche, crossing the only canal bridge on the Burgundy Canal and a perfect time to explore the towpath on foot or bicycle.  After lunch we drive to Chateau de Chailly golf course which was designed by Thierry Sprecher and Géry Watine, professional champion of France in 1989. Around its 16th century chateau, the Chailly golf course offers a magnificent course audaciously marrying the classicism of a formal garden and avant-garde golfing technology as regards the golfing construction.
Dinner on board. (18 holes, Par 72, 6146m).
Wednesday, Day 4 Pont d'Ouche to La Bussiere
After a short morning cruise, we set off on a drive through the slopes of the UNESCO-listed vineyards of the Côte de Beaune. Here, our expert guide will offer an insight into the production of the region's finest Premier and Grand Cru wines. We continue to Beaune – the capital of the Burgundy wine country, for a private tour and tasting at the renowned Domaine Chanson. The tour includes its medieval Bastion de l'Oratoire, a 15th century defence tower whose 25-foot-thick walls now maintain the perfect temperature for ageing wine. This is followed by a private gastronomic lunch in the domaine's chateau. Afterwards, we visit the fascinating Hôtel-Dieu Hospice with time to explore the town, before returning for a short evening cruise to La Bussière. Dinner on board.
Thursday, Day 5 La Bussiere to Sainte-Marie-sur-Ouche
After breakfast, we cruise to Sainte-Marie-sur-Ouche, again with plenty of opportunity to walk or cycle along the ever-present towpath past sleepy villages and pretty lock houses. In the afternoon we transfer to Golf de Beaune Levernois. The course was designed in the heart of the Burgundy vineyards, within a framework of relaxation and greenery. It is a long technical course with 9 lakes and bunkers of white sand as well as many large trees. This course is reserved for all levels of player. Dinner on board. (18 holes, Par 72, 6129m).
Friday, Day 6 Sainte-Marie-sur-Ouche to Fleurey sur Ouche
This morning we travel to Golf Blue Green Quetigny Grand Dijon, situated just 5 minutes from the centre of Dijon in the heart of wine producing Burgundy, where you will find a short and hilly golf course that runs along the River Mirande. Designed by Chris Pittman, and opened in 1990, this technical course offers a challenge for all levels of player; so do not be fooled by its length. After lunch we cruise to Fleurey-sur-Ouche for our final mooring and if time take a walking tour of Old Dijon and enjoy some shopping.
Captains Farewell Dinner on board. (18 Holes, Par 71, 625m).
Saturday, Day 7 Fleurey-sur-Ouche
After breakfast, guests are transferred to central Paris*.
*Other locations available for charter groups
On alternate weeks the cruise will be in the reverse direction. This is a sample itinerary and is subject to change.
Golf cruises include pre-booked and paid tee times and transfers to and from the golf clubs.
Hire of clubs, caddy or buggy are not included.
CONTACT US ABOUT THIS CRUISE
Cruise Route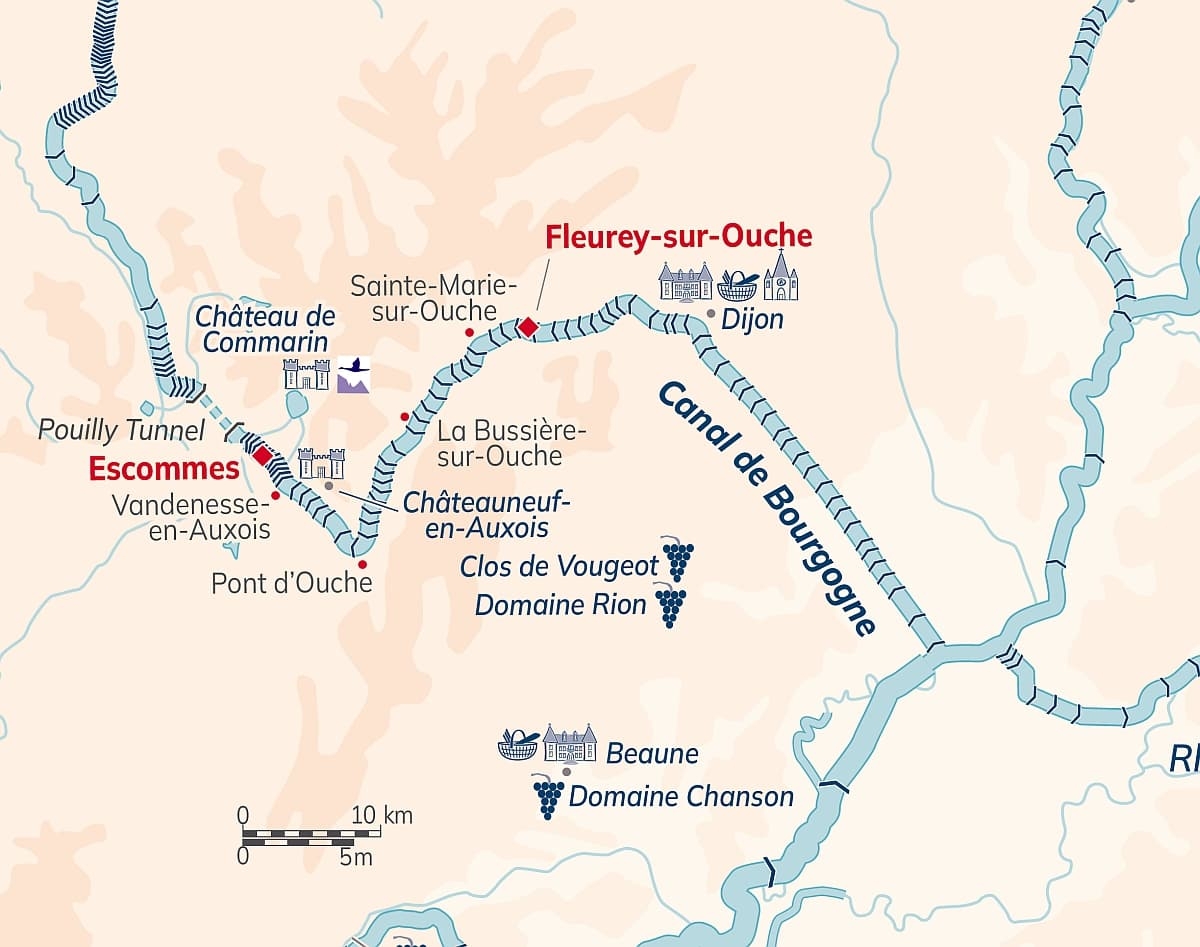 Photo Gallery
L'Impressionniste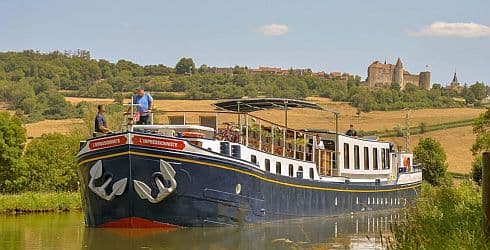 L'Impressionniste is a deluxe, 12 passenger hotel barge that cruises the Burgundy Canal in the wine region of Southern Burgundy