Culinary Cruise - Southern Burgundy
ITINERARY*
Sunday, Day 1 Fleurey-sur-Ouche
Guests are met in Paris** and transferred by private chauffeured minibus to the elegant L'Impressionniste. A champagne reception welcomes you on board and the opportunity to meet the captain and crew. Perhaps a stroll along the towpath before your first dinner on board.
Monday, Day 2 Fleurey-sur-Ouche to Sainte-Marie-sur-Ouche
This morning, experience your first day's cruise along this enchanting canal, which also promises a walk or cycle along an ever-present towpath past sleepy villages and pretty lock houses. After lunch, we drive to Abbaye de Citeaux, where the Cistercian monks have been making cheese since the 1920s. Citeaux is made from the milk of the white Montbéliarde cows that graze in the Abbaye's meadows and only 300 cheeses are made every Monday and Tuesday. We enjoy a cheese tasting, before moving on to visit Clos de Vougeot, headquarters of the esteemed Chevaliers du Tastevin, who award a special prized label to the finest Côte d'Or vintages every year. Dinner on board.
Tuesday, Day 3 Sainte-Marie-sur-Ouche to La Bussière
After breakfast, we enjoy a walking tour of old Dijon, including a visit to the indoor food market to admire the wonderful local produce and buy the freshest of ingredients. Time afterwards perhaps to visit the impressive Notre-Dame, a mustard shop or two, or enjoy some shopping time, before a lunchtime cooking lesson to prepare and eat the fruits of our shopping labours. Return to the hotel barge for a leisurely afternoon cruise to La Bussière, with perhaps a walk or bicycle ride to the next lock or two en route. Dinner on board.
Wednesday, Day 4 La Bussière to Pont d'Ouche
After a short morning cruise, we set off on a drive through the slopes of the UNESCO-listed vineyards of the Côte de Beaune. Here, our expert guide will offer an insight into the production of the region's finest Premier and Grand Cru wines. We continue to Beaune – the capital of the Burgundy wine country, for a private tour and tasting at the renowned Domaine Chanson. The tour includes its medieval Bastion de l'Oratoire, a 15th century defence tower whose 25-foot-thick walls now maintain the perfect temperature for ageing wine. This is followed by a private gastronomic lunch in the domaine's chateau. Afterwards, we visit the Edward Fallot Moutarderie. The Fallot family have been making mustard since the 1840s using traditional methods and we are given a fascinating 'Sensational Experiences' tour and a private tasting of some diverse mustard-based products. We return to the barge for a short evening cruise to Pont d'Ouche. Dinner on board.
Thursday, Day 5 Pont d'Ouche to Vandenesse
This morning, we visit the Gaugry Fromagerie, a specialist maker of several flavoursome Burgundian cheeses. Gaugry is the last cheesemaker still producing raw milk Epoisses, first made by monks in the 16th century, as well as others such as Plaisir au Chablis, matured with Chablis to give it's unique flavour. After a guided tour and of course, a tasting of a number of delicious cheeses, we return to the barge. Our afternoon cruise is to Vandenesse-en-Auxois, passing grazing white Charolais cattle, rolling hills and picturesque villages, crossing the only aqueduct on the Burgundy Canal. Time later perhaps to visit the medieval hilltop village of Châteauneuf-en-Auxois, once an outpost of the Dukes of Burgundy and offering a fine overview of the feeder lakes, canal and surrounding countryside. Dinner on board.
Friday, Day 6 Vandenesse to Escommes
Our last day's leisurely cruise takes us to the canal summit, 1,250 feet above sea level, just before the Pouilly tunnel. This afternoon we visit the moat-encircled Château de Commarin, where we are lucky enough to enjoy a private tour, with the opportunity to meet Count Bertrand de Vogue – the current resident and 26th generation of the de Vogue family to maintain continuous residence since the 13th century. Guests can then explore the regal interior, rustic stables and surrounding gardens.   We also visit the nearby shop with its wonderful selection of local products such as Cassis, organic flours, veal, even goat sausages, from La Ferme du Rabutin. We return to the hotel barge for the Captain's Farewell Dinner on board.
Saturday, Day 7 Escommes
After breakfast, guests are transferred to their choice of location in Paris**
This is a sample itinerary and is subject to change. On alternate weeks the cruise will be in the reverse direction.
**Alternative locations are available for Private Charter bookings
Each Culinary Theme cruise includes cooking demonstrations by the on board chef, wine and food pairings for each meal, Burgundian cuisine which focuses on the freshest local produce and presentations of all cheeses and wines.
CONTACT US ABOUT THIS CRUISE
Cruise Route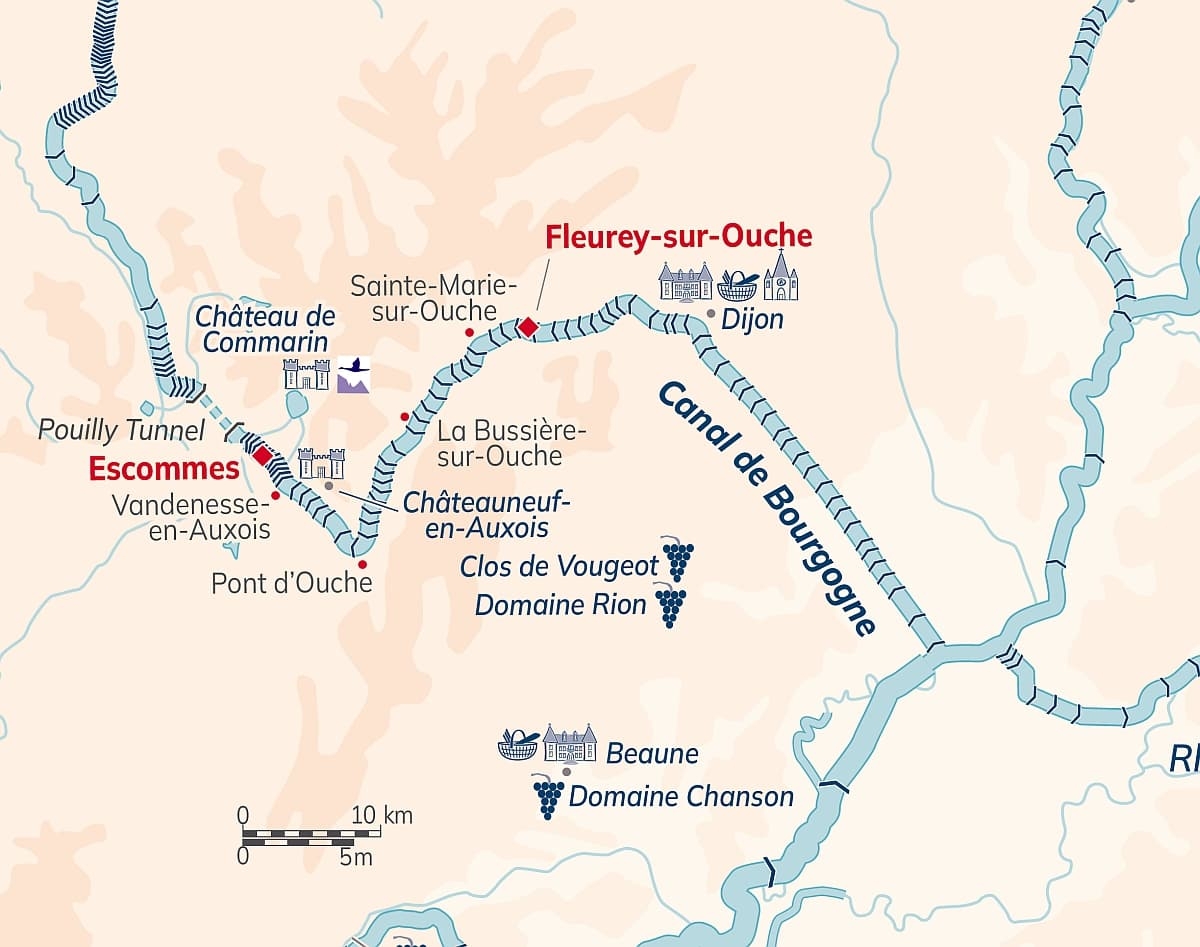 Photo Gallery
L'Impressionniste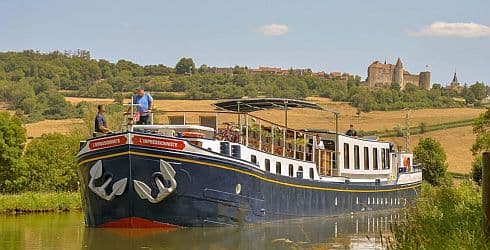 L'Impressionniste is a deluxe, 12 passenger hotel barge that cruises the Burgundy Canal in the wine region of Southern Burgundy