Golf Cruise – Burgundy
ITINERARY*
Sunday, Day 1 Chevroches
Guests are met at their choice of location in Paris and transferred by private chauffeured minibus to the pretty L'Art de Vivre moored in Chevroches. Following a 'Champagne Welcome' and an outline introduction to the week's wine cruise you are free to take a stroll or cycle ride before returning for dinner on board.
Monday, Day 2 Chevroches to Lucy-sur-Yonne
After breakfast, we leave Chevroches and enjoy or first gentle cruise along the canal, through the town of Clamecy and on to our mooring at Lucy-sur-Yonne. This is a perfect time for a walk or a bicycle ride along the towpath. After lunch on board, we take a drive to visit the elegant Château de Bazoches, built in the 12th century and whose illustrious visitors included Richard the Lionheart. The château was later remodelled by Maréchal Vauban and there are wonderful views from its elevated hillside setting. Dinner on board.
Tuesday, Day 3 Lucy-sur-Yonne to Le Saussois
This morning we transfer to Château de Chailly golf course which was designed by Thierry Sprecher and Géry Watine, professional champion of France in 1989. Around its 16th century chateau, the Chailly golf course offers a magnificent course marrying the classicism of a formal garden with modern golf course construction. We return to the barge for an afternoon cruise through the picturesque Yonne valley to arrive at Le Saussois. Dinner on board. (18 holes, Par 72, 6146m)
Wednesday, Day 4 Le Saussois to Mailly-la-Ville
We start the day with a tour of the charming 14th century medieval market village of Noyers-sur-Surein, one of the most beautiful villages in France. After lunch we cruise through delightful countryside to the sleepy village of Mailly-la-Ville and again there is ample opportunity to enjoy delightful walks or bicycle rides along the towpath. Dinner ashore tonight at a local restaurant.
Thursday, Day 5 Mailly-la-Ville to Vincelles
This morning's cruise takes us through some delightful locks and past rich pasturelands with grazing Charolais cattle to our mooring at Vincelles. After lunch on board we transfer to Golf Chateau de Tanlay situated in the park of a spectacular castle, in the Burgundy Bourgogne region of France.
Friday, Day 6 Vincelles to Auxerre
After breakfast we golf at Domaine du Roncemay Golf & Country Club. This international course, created by Jean Garaialde in 1991, has hosted many of France's famous competitions. In a majestic woodland setting, overlooked by the Chateau, this course extends around the castle through oak and beech forests onto large green plateaus. Return to the barge moored on the River Yonne in the heart of Auxerre and perhaps later explore this medieval town before Captain's Farewell Dinner onboard.(18 holes, 6219m)
Saturday, Day 7 Auxerre
After breakfast, guests are transferred to their choice of location in Paris**.

*This is a sample itinerary and is subject to change.
** Alternative locations available for Charter bookings
On alternate weeks the cruise is in the reverse direction.
Golf cruises include pre-booked and paid tee times and transfers to and from the golf clubs.
Hire of clubs, caddy or buggy are not included.
CONTACT US ABOUT THIS CRUISE
Cruise Route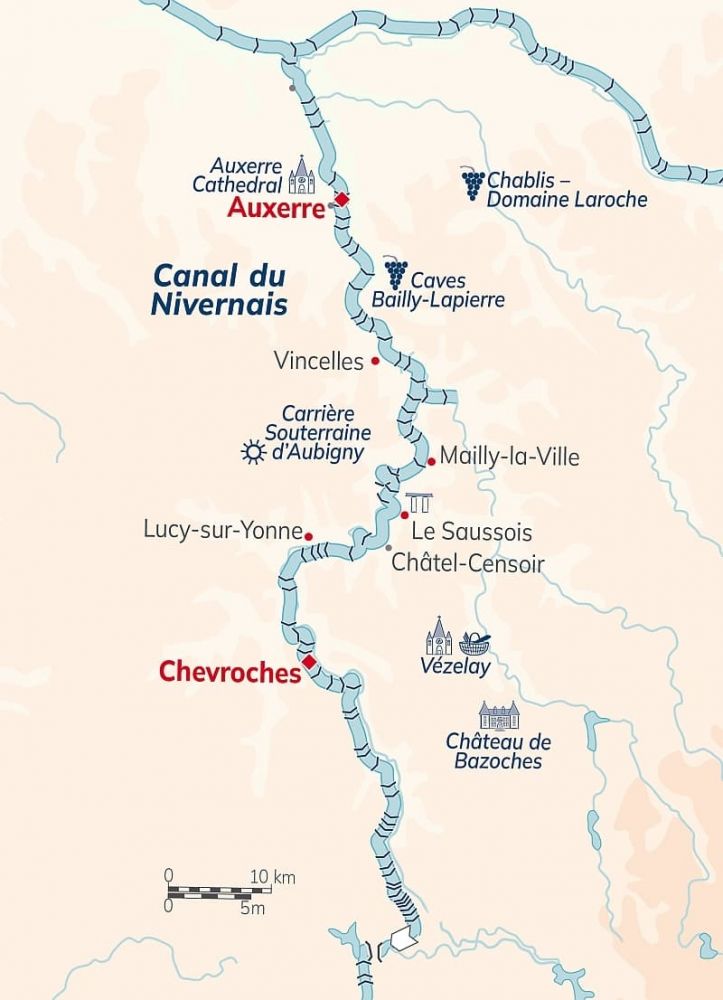 Photo Gallery
L'Art de Vivre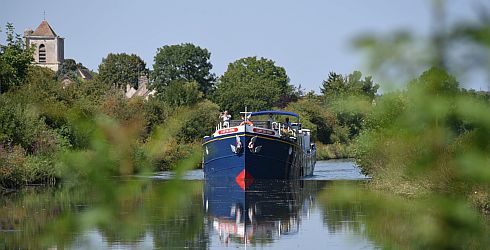 L'Art de Vivre is a first class, 8 passenger hotel barge that cruises the charming Canal du Nivernais and River Yonne in Burgundy
Related Articles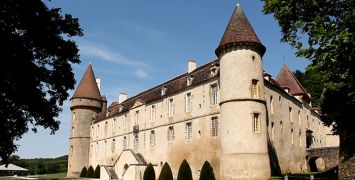 Visit the impressive Château de Bazoches aboard L'Art de Vivre to experience exquisite architecture, stunning views and to learn of the great Field Marshal, Vauban. Read More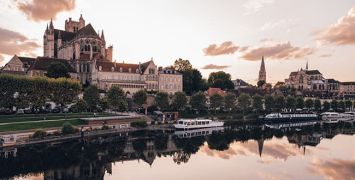 The French city of Auxerre is a dwelling frozen in time. Whilst you're wandering around, it's easy to forget you're in France, and think you're in a fairy-tale! Read More