Golf Cruise – Southern Burgundy
ITINERARY*
Sunday, Day 1 St-Julien-sur-Dheune
Guests are met in Dijon** and transferred by air-conditioned minibus to Finesse for a Champagne Welcome and the opportunity to meet the crew. Then there is time to wander along the towpath and admire the classic Burgundian scenery, before dinner on board.
Monday, Day 2 St-Julien-sur-Dheune to St-Léger-sur-Dheune
We begin our voyage this morning through Southern Burgundy through undulating countryside to moor at the little village of St-Léger-sur-Dheune. We will be descending a series of locks with many opportunities to disembark and explore the villages along the way. After lunch, we head to Chateau d'Avoise golf course, sprawling an area of 120 hectares, between groves and birches, majestic beech trees, oak trees and a lake, it offers a technical and strategic challenge to players of all categories. Dinner on board. (18 holes, Par 72, 5708 m).
Tuesday, Day 3 St-Léger-sur-Dheune to Remigny
This morning's cruise takes you past the famous wine-producing village of Santenay. There are perfect opportunities to walk or cycle along the towpath en route, before we moor at the pretty little port of St-Léger-sur-Dheune. In the afternoon we escort you on a winery tour and private tasting to the delightful Domaine Chanzy, one of Burgundy's must-see wine estates thanks to its 80 hectares of vines growing over the three Burgundy hillsides. Dinner on board.
Wednesday, Day 4 Remigny to Rully
After breakfast, we set sail to Rully, passing the charming little town of Chagny. We then set off by minibus through the famous vineyards of Burgundy to Chateau de Chailly where you will enjoy a gastronomic lunch before tackling the golf course. This was designed by Thierry Sprecher and Géry Watine, professional champion of France in 1989. Around its 16th century chateau, the Chailly golf course offers a magnificent course audaciously marrying the classicism of a formal garden and avant-garde golfing technology as regards the golfing construction. Dinner on board. (18 holes, Par 72, 6146m).
Thursday, Day 5 Rully to Fragnes
In the morning we will escort you to Golf de Beaune Levernois. The course was designed in the heart of the Burgundy vineyards, within a framework of relaxation and greenery. It is a long technical course with 9 lakes and bunkers of white sand as well as many large trees. This course is reserved for all levels of player. After lunch aboard we continue our cruise along the Canal du Centre at a leisurely pace to the mooring of the village of Fragnes. Dinner on board. (18 holes, Par 72, 6129m).
Friday, Day 6 Fragnes to Chalon-sur-Saône
This morning, we make our final cruise of the week, passing through the last lock on the canal which lowers us an impressive 35 feet. We then head out onto the peaceful River Saône and turn downstream to our mooring at Chalon-sur-Saône with its elegant waterfront, imposing cathedral and opportunities for some last shopping. After lunch on board, we escort you to Golf Blue Green Quetigny Grand Dijon, situated just 5 minutes from the centre of Dijon in the heart of wine producing Burgundy, where you will find a short and hilly golf course that runs along the River Mirande. Designed by Chris Pittman, and opened in 1990, this technical course offers a challenge for all levels of player; so, do not be fooled by its length. Captain's Farewell Dinner on board. (18 Holes, Par 71, 625m).
Saturday, Day 7 Chalon-sur-Saône
After breakfast, guests are transferred by private chauffeured minibus to their choice of location in Dijon**.
*This is a sample itinerary and is subject to change. On alternate weeks the cruise is in the reverse direction.
**Other locations are available for Private Charter bookings
CONTACT US ABOUT THIS CRUISE
Cruise Route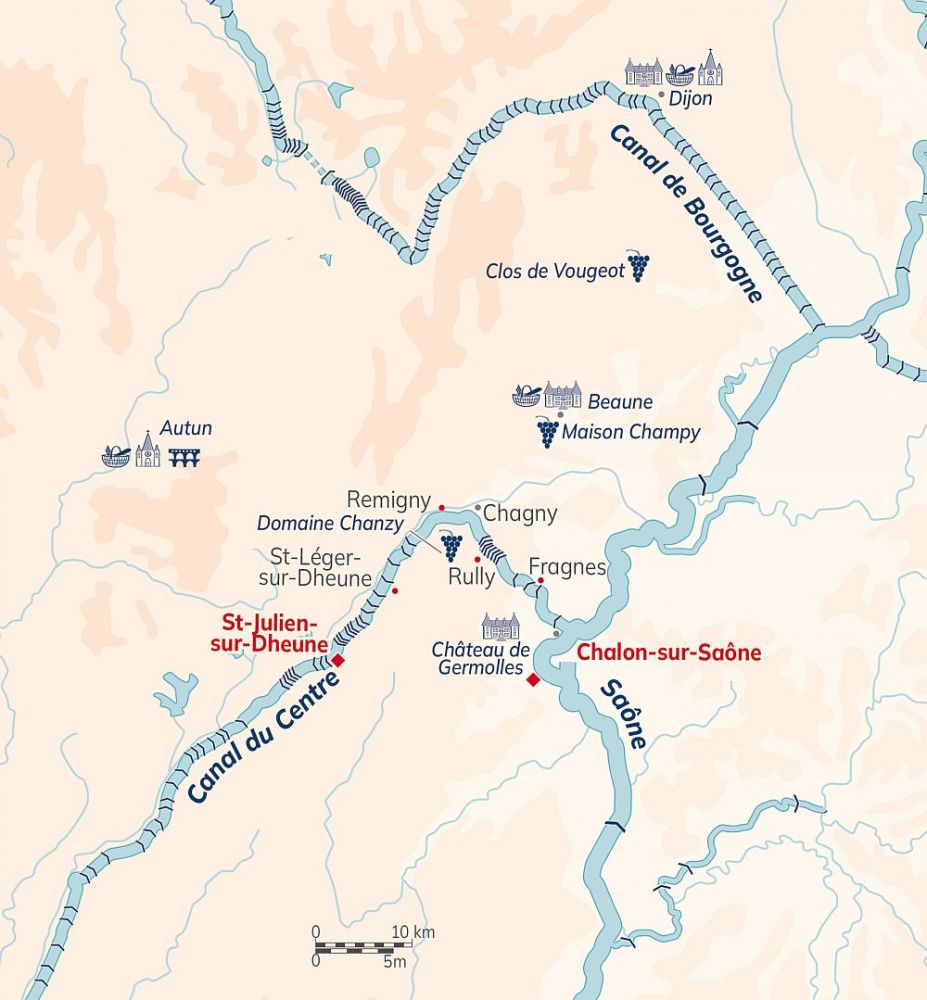 Photo Gallery
Finesse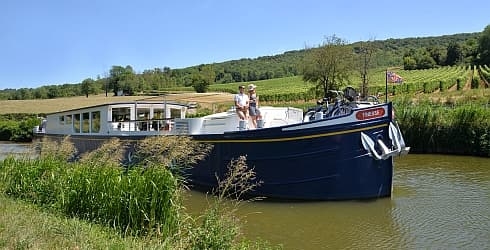 Finesse is an ultra deluxe, 8 passenger hotel barge that cruises the River Saône and Canal du Centre in Southern Burgundy